Compact Power MOSFET is designed for automotive applications.
Press Release Summary: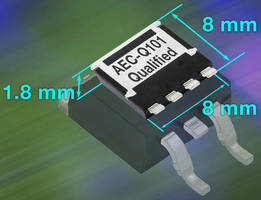 Offering alternative to D²PAK and DPAK devices used in automotive applications, AEC-Q101-qualified SQJQ402E comes in 100% lead (Pb)-free, 8 x 8 x 1.8 mm PowerPAK® 8x8L package featuring gull-wing leads for mechanical stress relief. This 40 V TrenchFET® power MOSFET, operating to +175°C, features internal construction that minimizes inductance and enables max on-resistance of 1.5 mΩ at 10 V (1.8 mΩ at 4.5 V). Continuous drain current capability is rated up to 200 A.
---
Original Press Release:

Vishay Intertechnology PowerPAK® 8x8L 200 A Package Offers Space- and Power-Saving Alternative to D²PAK and DPAK for Automotive Applications



Device Is Industry's First AEC-Q101-Qualified, 100% Lead-Free MOSFET in 8 mm x 8 mm Footprint



MALVERN, Pa. – Vishay Intertechnology, Inc. (NYSE: VSH) today introduced a new 8 mm by 8 mm by 1.8 mm PowerPAK® 8x8L package designed to provide a high-current, space- and power-saving alternative to D²PAK and DPAK devices commonly used in automotive applications. The Vishay Siliconix SQJQ402E 40 V TrenchFET® power MOSFET is the industry's first AEC-Q101-qualified MOSFET to use this 8 mm by 8 mm footprint, and the first in an 8 mm by 8 mm package with gull-wing leads for mechanical stress relief.



The SQJQ402E offers high-temperature operation to + 175 °C to provide the ruggedness and reliability required for automotive applications such as motor drives, electric power steering, transmission control, and injector drives. The internal construction of the device's PowerPAK 8x8L package minimizes inductance and enables a low maximum on-resistance of 1.5 mΩ at 10 V and 1.8 mΩ at 4.5 V.



Additional design features also provide very high continuous drain current capability up to 200 A. The SQJQ402E signals the release of an extensive roadmap of MOSFETs that will allow designers to exploit the benefits of this package in a multitude of automotive applications.



The device released today also features gull-wing leads specifically designed to reduce PCB solder joint stress caused by the wide range of operating temperatures commonly experienced in automotive applications. This approach has been successfully implemented in Vishay's smaller 5 mm by 6 mm PowerPAK SO-8L package. While the D²PAK and DPAK contain lead (Pb), the PowerPAK 8x8L exceeds current RoHS standards and is completely lead (Pb)-free.



To save PCB space and costs, and enable the creation of smaller and lighter modules in applications where multiple MOSFETs are often required, the SQJQ402E offers similar on-resistance and higher continuous current than devices in the D²PAK, while providing a 60 % smaller footprint area and 60 % thinner profile. To save power, the SQJQ402E offers half the on-resistance, twice the current, and a 21 % smaller profile than devices in the DPAK, all with only a 12 % larger footprint.



Samples of the SQJQ402E are available now. Production quantities will be available in Q2, with lead times of 13 to 14 weeks for large orders. Pricing for U.S. delivery is $1.95 per piece in 10,000-piece quantities.



Vishay Intertechnology, Inc., a Fortune 1000 Company listed on the NYSE (VSH), is one of the world's largest manufacturers of discrete semiconductors (diodes, MOSFETs, and infrared optoelectronics) and passive electronic components (resistors, inductors, and capacitors). These components are used in virtually all types of electronic devices and equipment, in the industrial, computing, automotive, consumer, telecommunications, military, aerospace, power supplies, and medical markets. Vishay's product innovations, successful acquisition strategy, and "one-stop shop" service have made it a global industry leader. Vishay can be found on the Internet at www.vishay.com.



TrenchFET and PowerPAK are registered trademarks of Siliconix incorporated.



http://twitter.com/vishayindust

http://www.facebook.com/VishayIntertechnology

More from Services