Compact Photorelays can reduce assembly area and volume.
Press Release Summary: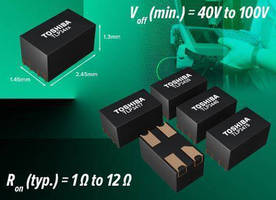 Photorelays TLP3417, TLP3420, TLP3440, and TLP3475 come in 1.5 x 2.5 x 1.3 mm (max) VSON4 package that enables high-density assembly. While TLP3440 has improved leakage characteristics against high frequency at off-state, TLP3475 has improved high speed signal transmission characteristics at on-state. For high-voltage measurement requirements, TLP3417 supports 80 V and TLP3420 supports 100 V. All devices achieve 3 mA (max) trigger LED current and 300 Vrms (min) isolation voltage.
---
Original Press Release:

Toshiba Expands Range of Ultra-Small Photorelays in Industry's Smallest Packages



VSON4 Packages Reduce Mounting Area by 50 Percent



IRVINE, Calif. -- Toshiba America Electronic Components, Inc. (TAEC)*, a committed leader that collaborates with technology companies to create breakthrough designs, today announced the expansion of its lineup of ultra-small photorelays with the addition of four products: the TLP3417, TLP3420, TLP3440 and TLP3475. The new products are suited for system solutions in various applications, including semiconductor testers, measurement equipment, probe cards and medical equipment.



The new products are housed in the industry's smallest package([1 )for photorelays, the Toshiba-developed VSON4([2) package. The VSON4 package enables high-density assembly and, by replacing USOP4 packages, can shrink the assembly area by 50 percent and the assembly volume by 60 percent.



The TLP3440 has improved leakage characteristics against high frequency at off-state, while the TLP3475 has improved high speed signal transmission characteristics at on-state( [3). For high voltage measurement requirements, including SoC testing, the TLP3417 supports 80V, while the TLP3420 supports 100V. The new products have the same electrical characteristics as the conventional Toshiba USOP4 series products, making it easier to evaluate them as replacement products. All devices achieve 3mA (max) trigger LED currents and 300Vrms (min) isolation voltages.



Key Specifications







Key Specifications of the New Products





Features



For High Frequency Systems



For High Voltage Systems





Product



TLP3440



TLP3475



TLP3417



TLP3420





Package



VSON4 Package
Area: 1.5mm (max.) × 2.5mm (max.), Height: 1.3mm (max.)





On-state Current



0.12A (max.)



0.3A (max.)



0.12A (max.)



0.08A (max.)





On-state Resistance



12  (typ.)



1  (typ.)



7  (typ.)



8  (typ.)





Off-state Voltage



40V (min.)



50V (min.)



80V (min.)



100V (min.)





Off-state Capacitance
(Photo Side)



0.45pF (typ.)



12pF (typ.)



5pF (typ.)



6pF (typ.)





Trigger LED Current



3mA (max.)





Isolation Voltage



300Vrms (min.)







The new photorelays are available now. For more details, samples and pricing information, please contact your local Toshiba Sales Office.



*About Toshiba Corp. and TAEC



About TAEC

Through proven commitment, lasting relationships and advanced, reliable electronic components, Toshiba enables its customers to create market-leading designs. Toshiba is the heartbeat within product breakthroughs from OEMs, ODMs, CMs, VARs, distributors and fabless chip companies worldwide.  A committed electronic components leader, Toshiba designs and manufactures high-quality flash memory-based storage solutions, solid state drives (SSDs), hard disk drives (HDDs), solid state hybrid drives (SSHDs), discrete devices, custom SoCs/ASICs, imaging products, microcontrollers, wireless components, mobile peripheral devices, advanced materials and medical tubes that make possible today's leading smartphones, tablets, cameras, medical devices, automotive electronics, industrial applications, enterprise solutions and more.



Toshiba America Electronic Components, Inc. is an independent operating company owned by Toshiba America, Inc., a subsidiary of Toshiba Corporation, Japan's largest semiconductor manufacturer and the world's sixth largest semiconductor manufacturer (Gartner, 2013 Worldwide Semiconductor Revenue, April 2014). Founded in Tokyo in 1875, Toshiba is at the heart of a global network of over 590 consolidated companies employing over 200,000 people worldwide. Visit Toshiba's web site at www.toshiba.co.jp/index.htm.



For additional company and product information, please visit http://www.toshiba.com/taec/.



Notes:

[1 For photocoupler products, as of September 8, 2014. Toshiba survey.

[2 VSON: Very Small Outline Non-leaded.

[3 When compared to previous Toshiba products.



© 2014 Toshiba America Electronic Components, Inc. All rights reserved.



Information in this press release, including product pricing and specifications, content of services and contact information,  is current and believed to be accurate on the date of the announcement, but is subject to change without prior notice.  Technical and application information contained here is subject to the most recent applicable Toshiba product specifications.



MEDIA CONTACT:

Dena Jacobson

Lages & Associates

Tel.: (949) 453-8080

dena@lages.com



CONTACT:

COMPANY CONTACT:

Rebecca Bueno

Toshiba America Electronic Components, Inc.

Tel.: (949) 462-7885

rebecca.bueno@taec.toshiba.com





More from Communication Systems & Equipment