Industrial / Specific Purpose Computers
Compact PCI Bridge Module plugs into rear of backplane.
Press Release Summary: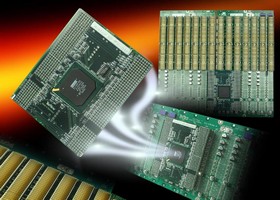 Enabling expansion of 33 and 66 MHz systems across 2 or 3 backplanes, cPCI Backplane Bridge features automatic detection of 32/64 bit systems and support for 3.3 and 5 V input. Low profile, 64-bit, 8-layer bridge is available for 3U and 6U cPCI backplanes, enables 2-backplane configuration of 7 and 3-7 slots, and up to 21 slots with 3 backplanes. Modules provide JTAG boundary scan connections and on-board regulation.
---
Original Press Release:

Elma Bustronic Announces Low Profile CompactPCI Bridges



FREMONT, California, Oct 2, 2006 - Elma Bustronic has launched versatile cPCI backplane low profile bridge modules that permit 33 MHz and 66 MHz systems to be expanded across two or even three backplanes.

The flat, unobtrusive design allows the bridge module to be plugged into the rear of the backplane without obstructing rear IO modules. Rear IO modules fit over the top and can simply be plugged over the bridges.

The Elma Bustronic low profile bridges feature automatic detection of 32/64 bit systems, with support for 3.3 V and 5 V input. The 8-layer bridge modules are available with the wide range of Elma Bustronic 3U and 6U CompactPCI backplanes, enabling both two-backplane configurations (7 + 3-7 slot), and up to 21 slots with three backplanes. Special application support is available for three-backplane 66 MHz versions.

For maximum flexibility, system slots on the right or left are supported. All slots are fully accessible from the front. JTAG boundary scan connections are provided, and on-board regulation means that no 3.3 V connection is required.

The left and right system slot versions are keyed to avoid incorrect fitting, and suit both 3U and 6U formats. Because the modules plug behind the backplane, all backplane slots are fully accessible from the front, minimising system size. The 64-bit cPCI bridge module automatically adjusts for any combination of 3.3 V and 5 V input either side of the bridge, and the optional 66 MHz version can include a simple SMD configuration switch to link 66 MHz primary backplanes to 33 MHz or 66 MHz backplanes. Elma Bustronic currently offers up to 5-slot 66 MHz cPCI backplanes, enabling the support of 66 MHz bridged solutions on request.

Seven clock signals and arbitration for seven secondary devices is built-in to the 95.1 x 79 mm modules, which are available as part of a configured backplane sub-system. By using multiple capacitor types distributed across the backplane, together with Elma Bustronic's proven backplane routing expertise, crosstalk has been virtually eliminated, and extremely low RF radiation has been achieved in these 0 - 70 Deg C rated active modules.

About ELMA BUSTRONIC:
Founded in 1989, Elma Bustronic specializes in the design and manufacture of high-performance backplanes. Elma Bustronic has a complete line of industry-standard backplanes, including CompactPCI, VME, VME64x, H.110 CT, VXI, VXS, and ATCA. Elma Bustronic's custom design service combines creative engineering, highly sophisticated computer simulation and modern design techniques to offer customized backplanes that meet the most specialized system requirements. A member of the ELMA Electronic group, Elma Bustronic is located in Fremont, California. Elma Bustronic is a member of PICMG*, VITA, and the StarFabric Trade Association and can be found on the World Wide Web at www.ElmaBustronic.com.

Ashley N. Chance
Sales & Marketing Assistant
Elma Bustronic Corporation
Tel: 510-490-7388 x510
Fax: 510-490-1853
achance@bustronic.com

Company Contact:
Justin Moll
Elma Electronic
510.490.7388
fax 510.490.1853
e-mail: jmoll@Bustronic.com