Compact Objective Assemblies simplify video microscopy.
Press Release Summary: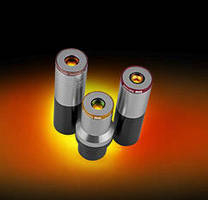 Helping reduce imaging system weight and size while maintaining optical performance, TECHSPEC® Compact Objective Assemblies (2X, 5X and 10X) optimize each objective to allow for shorter tube lengths. Products are offered with standardized 30 mm ODs and C-mount threading to facilitate integration into system subassemblies, and magnification is user-configurable via addition of spacers. Each lens includes broadband anti-reflection coating to provide even light transmission in VIS spectrum.
---
Original Press Release:

TECHSPEC® Compact Objective Assemblies Simplify Video Microscopy



Lightweight design with compact form factor



Barrington, N.J. — Edmund Optics® (EO), the premier provider of optical components, introduces new TECHSPEC® Compact Objective Assemblies. They are designed to reduce the overall weight and size of an imaging system, while maintaining outstanding optical performance.



Configurable magnification using spacers



Edmund Optics' TECHSPEC Compact Objective Assemblies are an excellent alternative to traditional objective systems, which typically require long tube lengths and tube lenses. TECHSPEC Compact Objective Assemblies optimize each objective to allow for shorter tube lengths, saving valuable space. For easy integration into system subassemblies, they are offered with standardized 30 mm outer diameters and C-mount threading. Configurable magnification allows the user to easily increase magnification by adding spacers to increase tube length.



Lenses have broadband AR coating



Optimized for long working distances, TECHSPEC Compact Objective Assemblies feature a lightweight design with a compact form factor. Each lens includes a broadband anti-reflection (AR) coating to provide even, maximized light transmission in the visible (VIS) spectrum, for optimal flexibility.



Ideal for biomedical or machine vision applications



TECHSPEC Compact Objective Assemblies are ideally suited for many biomedical or machine vision applications, including microscopy, flow cytometry, pharmaceutical inspection and assembly line or fault inspection. TECHSPEC Compact Objective Assemblies are available in 2X, 5X and 10X Compact Adjustable Objectives. The assemblies are in-stock and available for immediate delivery for fast turnaround and excellent value. A wide range of magnifications and numerical aperture options are also available upon request to accommodate various resolution, throughput and depth of field requirements.



See TECHSPEC Compact Objective Assemblies on display during The Vision Show (Boston, MA), April 14-17, at EO Booth 610.



About EO:

Edmund Optics® (EO) is a leading producer of optics, imaging, and photonics technology for R&D, electronics, semiconductor, pharmaceutical, biomedical, and military markets around the globe. EO is the world's largest supplier of off-the-shelf optical components. Customers can purchase items by contacting EO at 1-800-363-1992, via the catalog, or via the website at www.edmundoptics.com



Company Contact:

Kirsten Bjork-Jones

Director Global Marketing Communications

Edmund Optics®, Inc.

101 East Gloucester Pike

Barrington, NJ 08007 U.S.A.

Phone: 1-800-363-1992

Fax: 1-856-573-6295

email: kbjork-jones@edmundoptics.com

More from Material Handling & Storage