Compact Multilayer Varistors offer capacitance to 150 pF.
Press Release Summary: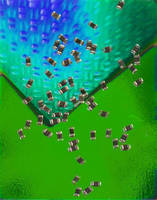 Including 125 and 150 pF versions, miniature TransGuard® 0201 Series MLVs provide multiple strike capability and are able to withstand 1,000 strikes at 8 kV of contact. They feature sub 1 nsec response time to ESD strike, 5.6 V rating, and have leakage current of less than 5 µA at rated voltage. Offering bi-directional transient voltage suppression with low insertion loss, devices are suited for handheld devices, as well as embedded components such as hearing aids and camera modules.
---
Original Press Release:

AVX Expands Miniature TransGuard® 0201 Series Multilayer Varistor Capacitance Range to 150pF



Compact 0201 TransGuard® MLV passes 1,000 strikes at 8kV ESD per EIC 61000-4-2...

Myrtle Beach, S.C. - AVX Corporation, a leading manufacturer of advanced passive components and interconnect solutions, has expanded its miniature TransGuard® 0201 Series multilayer varistor (MLV) to include 125pF and 150pF versions. AVX's TransGuard 0201 Series now provides the broadest capacitance range of any miniature MLV on the market, ranging from 10pF to 150pF.

The TransGuard 0201 Series allows designers to clamp transients and filter EMI in one ultra-compact device. Designed for all small handheld devices, the miniature 0201 bi-directional transient voltage suppressor provides minimal signal distortion and low insertion loss. In addition, the 0201 MLV is a cost-effective, one-chip solution that can decrease the chip count on printed circuit boards, reducing the amount of real estate needed.

The TransGuard 0201 MLVs provide multiple strike capability and are able to withstand 1,000 strikes at 8KV of contact. The Transguard Series features a sub 1nS response time to ESD strike. The devices feature a 5.6V rating and have a leakage current of <5µA at rated voltage.

"The 0201 TransGuard Series' 125pF and 150pF values are the highest available in an 0201 case size with the fastest ESD strike response time," said Sonja Brown, global product manager for circuit protection products at AVX. "We have also added benefit of the lowest Vb that, combined with the expanded capacitance values, allows AVX to meet a wider range of filtering specifications."

The Transguard 0201 MLVs are ideal for handheld devices, including cell phones and PDAs, as well as embedded components such as hearing aids and camera modules. Typical pricing ranges from $0.005 - $0.024 for standard commercial product depending on volume with lead times of stock to 10 weeks.

For more information, contact AVX Sales & Marketing at 843-448-941, by fax at
843-448-1943, or at www.avx.com on the Web.

About AVX

AVX Corporation is a leading international supplier of electronic passive components and interconnect solutions with 24 manufacturing and customer support facilities in 15 countries around the world. AVX offers a broad range of devices including capacitors, resistors, filters, timing and circuit protection devices and connectors. The company is publicly traded on the New York Stock Exchange (NYSE:AVX).

For more information, contact:
Sonja Brown
Global Circuit Protection
Product Manager
843-946-0504
sbrown@avx.com

More from Controls & Controllers