Compact Marine-Grade Keyboard simplifies navigation control.
Press Release Summary: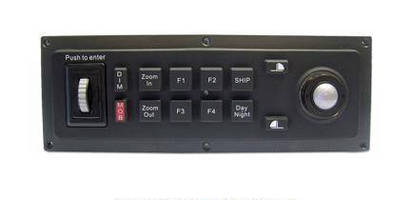 Designed for use with Furuno NavNet black box systems with Time Zero Software, Time Zero Keyboard comes in 2 models for horizontal and vertical mounting preferences. Product provides direct access to most used navigation features, facilitating command processing and fostering efficient operation. Features include click-to-select swivel-wheel for zooming and 3D function control, dedicated function buttons, 4 programmable function keys, day/night modes, Man-Over-Board, and dimmable 8-level backlighting.
---
Original Press Release:

Kep Marine Launches Time Zero Keyboard



Compact Marine-Grade Keyboard For Furuno NavNet Black Box Systems Simplifies Navigation

Control With Quick and Easy Access to Features



Eatontown, N.J. – Kessler-Ellis Products (KEP) Marine, the manufacturer of industry-leading marine sunlight-readable displays and high-quality marine hardware and software products, announced today the new Time Zero Keyboard. The compact marine-grade keyboard is designed for use with Furuno NavNet black box systems with Time Zero Software, including the Furuno MaxSea Time Zero and Nobeltec Time Zero software packages. Available in two models for both horizontal and vertical mounting preferences, the Time Zero Keyboard provides direct access to the most used navigation features for simple command processing and the ultimate in convenient and efficient operation.



The rugged KEP Marine Time Zero Keyboard features a click-to-select swivel-wheel for fast and seamless zooming and 3D function control. Convenient, dedicated function buttons include vessel centering; day/night modes that change chart presentation for day, dusk and night viewing; Man-Over-Board; zooming in and out on the chart; and dimmable eight-level backlighting. The keyboard also includes four programmable function keys to allow user-customized operation. Virtually every feature of the MaxSea Time Zero software can be programmed for direct access from the quick keys. When the navigation system is paired with a sounder or MaxSea PC Radar, the user-specified buttons are easily adapted for quick and essential sounder and radar control and integration.



"KEP's new Time Zero Keyboards make reliable operation of Furuno's popular NavNet black box systems and MaxSea navigation software as well as Nobeltec Time Zero software easy and efficient," said Keith Cariani, sales manager, KEP Marine. "Its direct keys for frequently used functions and safety features make navigation seamless, and dedicated programmable keys offer customizable control to meet every captains' needs and preferences."



The horizontal-mounting Time Zero Keyboard model, KRST12N-1336, is designed for flush mounting in a chart table. The vertically mounted KRST12N-1400 features a 0.4-inch (10 mm) frame with six mounting holes allowing flexible installation anywhere including an armrest or navigation table. Fully waterproof for outdoor installation, the Time Zero Keyboard measures 9.1-inches long x 3.2-inches wide x 1.8-inches deep (230.5 x 80.5 x 45mm), and are plug-and-play compatible with Furuno Black Box systems using its 1.5 USB cable.



KEP Marine's new KRST12N-1336 and KRST12N-1400 keyboards can be purchased from authorized KEP Marine dealers and distributors worldwide for US $740. For more information on the Time Zero Keyboards, or to learn more about the entire line of KEP marine electronics, please contact 800-631-2165 (toll-free) in the USA or visit www.kepmarine.com.



About KEP Marine:

KEP has designed and manufactured high-quality industrial hardware and software products for over fifty years. Entering the marine market ten years ago with innovative vessel monitoring systems, the company now offers industry-leading marine sunlight readable displays, glass bridge displays, monitor management interfaces, marine computers, multimedia systems, and video recording and security systems. Known for providing top-of-the-line, highly reliable products and integrated solutions, as well as unparalleled support and warranty protection, KEP works with over one hundred distributors and representatives worldwide. www.kepmarine.com



For imagery and other editorial requests, please contact:



Andrew Golden

Rushton Gregory Communications

617-413-6521

agolden@rushtongregory.com

More from Machinery & Machining Tools