Compact Luminaire illuminates small sanitary vessels.
Press Release Summary: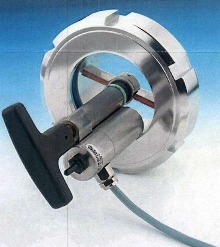 With stainless steel body measuring 3.4 in. long and 0.94 in. in dia, USL-01 provides glare-free illumination through halogen filament lamp. Various sight glass styles are accommodated, and mounting options include clip-on mounting clamp, hinged bracket for mounting onto retainers, or sanitary clamp connection. It is available for 12 or 24 V power sources and offers dust and water jet tight protection per NEMA 4, NEMA 4X, IP 65, EN60 529/DIN VDE 0470 part 1.
---
Original Press Release:
Super-Compact Luminaire Illuminates Interior of Small Sanitary Vessels

With its stainless steel body measuring only 3.4 inches long (86 mm) and 0.94 inches in diameter (24 mm) the super-compact USL-01 luminaire from L.J. Star Inc. is a ready response to the need for the illumination of small vessels, especially in sanitary applications. It can illuminate either a light port or a dual-purpose sight/light port, as illustrated here, producing glare-free illumination through its powerful halogen filament lamp.

The wide range of suggested applications for the USL-01 includes the illumination of bioreactors, laboratory mixers, filters, separators pressure vessels, miniature tanks and pipelines.

Sight glass styles that are accommodated include circular weld-on sight glass series DIN 21 120 from DN 25; circular sight glass series ANSI bolt-on starting at 1 inch; visual flow indicators starting at 1/2 inch, circular weldneck series MV starting at DN 50 and sanitary MetaClamp® connection starting at 1/2 inch. Dust and water jet tight protection is per NEMA 4, NEMA 4X, IP 65, EN60 529/DIN VDE 0470 part 1.

Two models are available for 12 or 24-volt power sources and both come standard with an integral push-button switch. Mounting options include a clip-on mounting clamp for the Lumiglas wiper assembly Type SW1 as illustrated, a hinged bracket for mounting onto retainers, or a sanitary clamp connection for sizes ½ inch and up using Metaglas technology.

To obtain your copy of L.J. Star Data Sheet 02-00135, contact L.J. Star Incorporated, P.O. Box 1116, Twinsburg, OH 44087. Phone: 330-405-3040. Fax: 330-405-3070. Email: view@ljstar.com. Web site: www.ljstar.com
More from Cleaning Products & Equipment