Compact Keyboard has 12 function keys only.
Press Release Summary: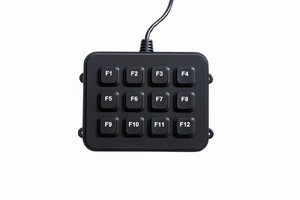 Meeting MIL-STD-461E specifications, Model KYB-12 rugged keyboard can coexist with other sensitive equipment without causing interference. It measures 3.2 x 4.0 x 1.25 in., and outputs for keys are same scan codes as regular F1 through F12 functions. Built with industrial silicone rubber keypad and lightweight, polycarbonate case, sealed and waterproof keyboard is suited for mobile applications. Configuration options include PS/2 or USB.
---
Original Press Release:
Compact Keyboard from iKey Features Functionality
January 29, 2008 Austin, Tx. - When a full keyboard is not necessary and function keys are all that is required, iKey offers a simple solution - the KYB-12. This small, rugged keyboard features function keys only. Designed as a consumer-off-the-shelf part, it does meet MIL-STD-461E specifications, which means it can coexist with other sensitive equipment without causing interference. "The compact size of the KYB-12 is ideal for mobile applications," said Joel East, Director of Business Development and Technical Design for iKey. "The outputs for the keys are the same scan codes as regular F1 through F12 functions. It works well on its own and paired with a touch screen." The KYB-12 is sealed and waterproof. It is built with an industrial silicone rubber keypad and a lightweight, polycarbonate case. Configuration options include PS/2 or USB, and the dimensions are 3.2" W x 4.0" H x 1.25" D. "We can also build this keyboard as the KYB-12-OEM, which can be integrated into OEM systems, " East said. "The circuit board has through-holes for threading and mounting into other applications." About iKey, Inc.: iKey designs, manufactures and sells sealed, rugged keyboards for industrial, kiosk, public safety, medical and military environments. All iKey products are designed to function in harsh conditions. A pioneer in its industry since 1989, iKey is known as an innovator of industrial computer peripherals. Contact: Danielle Nepustil (512) 837-0283 dnepustil@ikey.com www.iKey.com
More from Electronic Components & Devices