Compact Heaters utilize ceramic PTC technology.
Press Release Summary: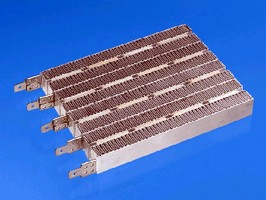 With rated power output to 1,500 W, PTC Heaters can accommodate wide array of self-regulating PTC thermistor elements, which operate at nearly constant temperature over range of voltage and environmental conditions. Heaters require no thermostat and have virtually unlimited life with no moving parts. Applications include space heaters, CCTV cameras, mat/cushion heaters, telecommunications equipment, and vehicle/windshield heaters.
---
Original Press Release:

PTC High Power Heaters offer Low-cost Compact Heating



St. Mary's, PA - January 4, 2008 - Spectrum Sensors and Controls introduces a high power, compact heater design that utilizes proven ceramic PTC technology to act as the heating element. The PTC thermistors used in this high power heater are self-regulating elements that can operate at a nearly constant temperature over a wide range of voltage and environmental conditions.

Spectrum's PTC heaters offer high power density in a compact, low-cost design that can accommodate a wide array of PTC thermistor elements. These heaters have a rated power output to 1500W, require no thermostat and have a virtually unlimited life with no moving parts. Positioned between rigid aluminum fins are one or more PTC heating elements. This helps maximize the heating surface area while protecting the PTC elements.

The PTC heaters can be used alone or in conjunction with a number of other devices to heat a large area. A fan is used to dissipate the heated air from the PTC to the area that is to be heated. Applications for PTC high power heaters include space heaters, CCTV cameras, mat/cushion heaters, telecommunications equipment, vehicle/windshield heaters and many others.

Spectrum's PTC high power heaters are priced at approx. $ 7.50 @ 1,000pcs with a lead-time of stock to 10 weeks.

About Spectrum Control
Spectrum Control, an ISO 9001 and TS 16949 certified company, designs, manufactures and markets a broad line of EMI/RFI filters and power components, power management systems, microwave components, and position and temperature sensors and controls.

Spectrum Sensors & Controls Advanced Thermal Products Operation produces temperature sensing probes and assemblies, PTC and NTC thermistors and resistive temperature detectors (RTDs). The company's Precision Positioning Sensors Operation manufactures a variety of precision co-molded conductive plastic potentiometers and position sensors, as well as element segments and cable assemblies. Designs for these potentiometers and position sensors include rotary, motorized, hollow shaft, linear and fader types, as well as custom assemblies.

The Spectrum Control EMI Filters and Components Group produces discrete surface mount EMI filters, resin sealed and hermetically sealed EMI filters, EMI filtered arrays, EMI filtered connectors, ESD/EFT protected connectors, filtered data-com connectors, gaskets and shielding, patch antenna elements, single line filters, filtered terminal blocks, power entry modules, power line filters, military/aerospace multi-section filters, and commercial custom assemblies.

The Power Management Systems Group produces AC and DC power distribution and remote management systems. Products include off-the-shelf SMART start products as well as customized products or systems designed to suit specific user requirements. DC power circuit breaker and fuse interface panels, power outlet strips and data acquisition modules are also offered.

Spectrum Microwave is a wholly owned subsidiary of Spectrum Control, Inc. and produces a wide range of microwave components and systems. Integrated Microwave Systems include switchable filter banks, low noise amplifiers, local oscillator multipliers, microwave synthesizers, digitally tuned oscillators and integrated assemblies. Microwave Filters include bandpass filters and duplexers, lumped element filters, cavity filters, waveguide filters, tubular filters, base station products and resonators. Frequency Control Components include a wide range of amplifiers, mixers, voltage controlled oscillators (VCOs) and dielectric resonator oscillators (DROs).

For further product information, contact, Devin Brock, Spectrum Sensors & Controls, Inc., St Marys, PA 15857. Phone: 814-834-1541 Fax: 814-834-1556, Email: sales@atpsensor.com, Website: www.SpecSensors.com

More from Electrical Equipment & Systems