Compact Handheld Meters meet environmental field monitoring needs.
Press Release Summary: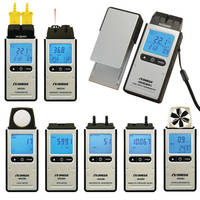 Digital HHC201 and HHC210 are, respectively, a dual thermocouple thermometer and IR thermometer with laser sighting. While HHC230 measures light intensity, HHC250 performs non-contact optical RPM measurement. Hygro-anemometer HHC261, used to measure air flow and humidity, offers ambient measurement, wind chill indicator, and integrated wet bulb flow vane. Differential (HHC280) and absolute pressure (HHC281) manometers are also available, and all meters have portable, rugged design.
---
Original Press Release:
OMEGA Introduces the New Compact Series of Handheld Meters for Test Kits
OMEGA presents the HHC200 Series of portable rugged environmental meters for temperature, pressure, RPM/light intensity, air flow, humidity, dew point, and wet bulb measurement. This series of 7 meters offer fast and accurate readings for your environmental field monitoring needs, measuring outdoor or laboratory created conditions such as wind chill, humidity, dew point, measuring the illumination in photo labs, office environments just to name a few.

The HHC201 and HHC210 digital thermometers are offered in two different models: infrared thermometer with laser sighting and dual thermocouple thermometer. The HHC230 and HHC250 light meter and optical RPM meter measure light intensity and non-contact optical RPM with accuracy and reliability. HHC261 hygro-anemometer for air flow and humidity measurement offer high accuracy with ambient measurement, wind chill indicator and integrated wet bulb flow vane.  The HHC280 and HHC281 manometers are offered in two different models: absolute pressure and precision differential. All models include a protective bumper and hard cover shell for field use, plus auto power-off features, and CE approval.

US Price Starts at $95

Link to the complete spec sheet page:
http://www.omega.com/pptst/HHC200-Series.html
http://www.omega.com/pptst/HHC230-HHC250-Series.html
http://www.omega.com/pptst/HHC260-Series.html
http://www.omega.com/pptst/HHC280-Series.html

The Hi-Res image: http://www.omega.com/presskit/files/HHC200_Series_HR.jpg

Website: http://www.omega.com
E-mail: info@omega.com  |  Tel: 1-888-826-6342

Twitter: @OmegaEng
Facebook: http://www.facebook.com/pages/Omega-Engineering/121219014465