Compact Excavator has floating hydraulic angle blade.
Press Release Summary: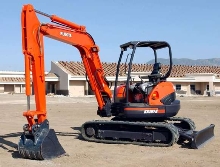 Powered by E-TVCS 4-cylinder, 47 hp diesel engine, KX161-3 features single lever control for its floating hydraulic angle dozer blade. User can raise and lower blade as well set angle of operation. When set at angle, blade enables backfilling while traveling in forward direction. After backfilling, floating blade position performs finishing work. Excavator has 12.5 ft max digging depth and comes with load-sensing hydraulic system and auto-idle.
---
Original Press Release:
Kubota's New Floating Hydraulic Angle Blade
Now Available on the KX161-3 Compact Excavator TORRANCE, Calif. -- With over 30 years of innovative technology, Kubota's excavators have earned their reputation as the most reliable and most efficient compact excavators in the industry. Building upon the success of the KX121-3 compact excavator's angle blade, Kubota engineered an optional floating hydraulic angle dozer blade for the KX161-3. Already one of Kubota's most impressive excavators, the KX161-3 is now even more productive. A single lever controls this easy-to-operate technology. Simple movement of the dozer blade lever accurately raises and lowers the blade and adjusts the angle of operation. When set at an angle, the blade allows for backfilling while traveling in a forward direction. After backfilling, the floating blade position performs the finishing work. This revolutionary technology reduces the need for repetitive repositioning of the machine. When compared to a trencher, the trencher piles up earth on both sides of the trench taking twice as long to backfill since repetitive repositioning is required. The angle blade saves the operator time and will contribute to customer profitability. The KX161-3 is powered by Kubota's sophisticated E-TVCS 4-cylinder diesel engine boasting 47-horsepower. With a maximum digging depth of 12.5', the 12,000 pound KX161-3 can undertake most jobsite excavating tasks. The KX161-3 comes equipped with Kubota's advanced, load-sensing hydraulic system, auto-idle, tight tail swing, and now an optional angle blade with float. The combination of these features, are sure to put contractors in total command of most demolition or construction applications. Kubota Tractor Corporation markets a complete line of excavators from 5.6' digging depth to 12.5' digging depth, along with a complete line of tractors up to 103 PTO horsepower, performance-matched implements, utility vehicles, construction equipment, consumer lawn and garden equipment, and commercial turf products. For product literature or dealer location information, contact Kubota Tractor Corporation at 3401 Del Amo Blvd., Torrance, Calif., 90503, 1-888-4KUBOTA ext. 900 (1-888-458-2682), or visit www.kubota.com.
Related