Compact Dryer can handle up to 600 lb of product/hr.
Press Release Summary: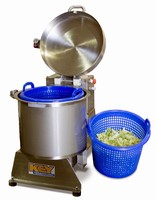 Able to remove moisture to enhance shelf life of fresh-cut produce, Compact Dryer is suited for small to medium volume fresh-cut processors producing variety of products such as shredded and chopped lettuce, leafy salad mix, cabbage, and cut vegetables. Designed to withstand harsh, hot water washdowns, stainless steel unit can be sanitized inside and out, and features magnetic lock with smooth profile. With footprint of 23 x 38 x 30 in., it fits into most plant environments.
---
Original Press Release:

Key Technology Introduces the Redesigned Compact Dryer for Fresh-Cut Produce



June 10, 2008 - Key Technology introduces the redesigned Compact Dryer for removing moisture to enhance the shelf life of fresh-cut produce. Handling up to 600 lb (280 kg) of product per hour, the Compact Dryer features new electronics and several new components to ease operation, enhance sanitation, and improve reliability while maximizing production flexibility and product quality.

With its small footprint and adjustable settings, the Compact Dryer is ideal for small to medium volume fresh-cut processors producing a wide variety of products such as shredded and chopped lettuce, leafy salad mix, cabbage, cut vegetables, herbs, onions, and peppers. Fully adjustable spin speeds and cycle times, and preprogrammed settings that can be quickly retrieved for fast product changeovers, assure optimal water removal for each type of product.

Ergonomically designed, the Compact Dryer is low to the ground, which minimizes lifting to ease loading and unloading and reduce the risk of operator injury while maximizing cycle times. Fast and dependable electronic braking maximizes production throughput and reduces maintenance.

Key backs the Compact Dryer with a standard one-year limited warranty that covers replacement parts. Spare parts and aftermarket support are available worldwide from Key's extensive sales and service organization.

To discourage bacteria growth and enhance sanitation, Key eliminated sharp corners and recessed areas that can trap product and liquid. Designed to withstand harsh, hot water washdowns, the stainless steel Compact Dryer is easy to sanitize inside and out. Instead of a traditional mechanical lock, the redesigned dryer features a magnetic lock with a smooth profile that improves sanitation and offers a safety advantage.

With a footprint only 23 inches (575 mm) wide and 38 inches (975 mm) deep, the 30-inch (770-mm) high Compact Dryer fits easily into most plant environments. With no bolts holding it to the floor, it can be easily relocated. The water can either drain out the bottom directly onto the floor or a flexible hose can be fitted to the bottom to carry the water away.

The redesigned Compact Dryer features a new 11.8 gal (45 liter) basket. Replacing the previous orange basket with blue allows it be easily identified in the plant as a non-food item. Each Compact Dryer comes with three baskets so two can be filled and/or emptied while the third is in the dryer.

For fresh-cut processors needing a higher volume dryer, Key offers the fully automatic Auto Dryer with one, two, or four drums.

About Key Technology, Inc.
Key Technology, an ISO-9001 certified company, is a leading designer and manufacturer of process automation systems, integrated electro-optical inspection and sorting systems, and processing systems. Key® systems help processors to improve quality, increase yield, and reduce cost. With worldwide sales representation, the company maintains demonstration and testing facilities at its headquarters and manufacturing divisions in Walla Walla, Washington, USA, and at Key Technology BV in Beusichem, the Netherlands. The company's common stock trades on the Global Market tier of The NASDAQ Stock MarketSM under the symbol: KTEC.


More from Computer Hardware & Peripherals