Stepper Motor Controllers and Drives
Compact Driver targets microstepping applications.
Press Release Summary: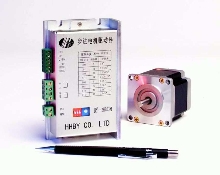 Measuring 2.95 x 4.96 x 1.26 in. and requiring up to 4 A per phase and 40 Vdc, driver is suited for 2-phase bipolar steppers. Driver, designed for NEMA 14-34 steppers, has dip switch settings to provide microsteps of 2, 5, 10, 16, 20, 32, 40, and 64 steps-per-step. Idle current is 50% of running current and activated 0.5 sec after last pulse. Applications include pick-and-place, medical testing equipment, robotics, and semiconductor manufacturing.
---
Original Press Release:

High Quality, Low Cost Drivers for 2 Phase Steppers in OEM Applications


Santa Clara, CA - A high quality, low cost, driver for 2 phase bipolar steppers is the answer to the OEM's question, "build or buy?".

Source Engineering, Inc. of Santa Clara, CA is now able to meet the needs of OEMs with a compact driver capable of microstepping, and measuring just 2.95 in. (75 mm) x 4.96 in. (126 mm) x 1.26 in. (32 mm). The driver has been designed for NEMA 14 through 34 steppers, requiring up to 4 amps per phase and 40 VDC. They are ideal for pick-and-place, medical testing equipment, robotics, toys and games, semiconductor manufacturing, security applications, and assembly operations.

The input voltage for these drivers is 20 to 40 VDC (50 VDC absolute max). A potentiometer is used to adjust the running current. The idle current is 50% of the running current and is activated in 0.5 sec after the last pulse. These drivers can also be used for microstepping. Dip Switch settings provide microsteps of 2, 5, 10, 16, 20, 32, 40, and 64 steps-per-step. Fully enclosed, the driver is mounted on an integral heatsink, and all connections are easily made with terminal blocks for easy integration into new and existing applications.

Also available from Source Engineering are high quality, low cost 2 phase bipolar steppers and gearmotors.

Source Engineering, Inc. located in Santa Clara, CA is a also supplier of brushless and brush-type motors, stepper motors, induction motors, optical encoders, gear boxes, gearmotors, amplifiers, universal power supplies, optical lenses, cable harnesses, and molded cables, and reflectors to OEM's. Other products and services include: Machined parts, injection moldings, die cast and aluminum extrusions, precision machining and turnkey manufacturing solutions.

For more information, call or fax Mr. Robert Thompson, Application Engineer, at Source Engineering, Inc., 3283-H De La Cruz Blvd., Santa Clara, CA, 95054, Tel: 408-980-9822, Fax: 408/980-1860 or visit our Web site at: www.sei-automation.com

More from Software