Compact Cooling/Heating Fan produces uniform airflow.
Press Release Summary: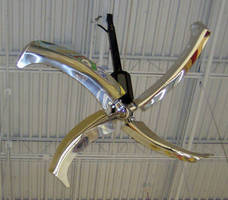 Combining High-Volume/Low-Speed (HVLS) fan technology with compact design, Revolution® SP Fan circulates air volumes up to 50 ft from its center in all directions for optimal heating/cooling of areas encompassing 7,800 ft². Mounting heights range from 10-30 ft from finished floor to bottom of fan blade. Engineered with rotationally balanced blade/hub connection, 4-blade fan comes in 8, 10, and 12 ft dia and offers controls for adjusting fan speed or operating unit in reverse.
---
Original Press Release:

New Revolution® SP Fan: Same Advantages of Proven Rite-Hite HVLS Fan Technology in a Compact Design to Better Move Air in Smaller Spaces, Areas with Low Ceiling Heights



Milwaukee - The new Revolution® SP Fan from Rite-Hite Corporation combines proven Rite-Hite High-Volume/Low-Speed (HVLS) fan technology with a compact design for more effective air circulation in smaller spaces and areas with limited ceiling heights. Engineered to supplement heated or cooled air in industrial facilities and warehouses, the Revolution SP Fan keeps people comfortable and productive year-round while reducing energy consumption by 20 to 30 percent.

A single Revolution SP Fan circulates a large volume of air up to 50 feet from the fan's center in all directions for optimum heating or cooling of an area encompassing 7,800 square feet. Available in 8-, 10, - and 12-foot diameters, the Revolution SP Fan's, four-blade design includes easy-to-use controls that allow users to adjust fan speed or operate the unit in reverse. Mounting heights range from 10 to 30 feet from the finished floor to the bottom of the fan blade. Also available is a touch-screen control box for operation of up to 18 Revolution SP Fans.

The fan's stylish look, which features polished aluminum fan blades, and quiet operation also makes the unit ideal for areas where aesthetics are important, such as in lobbies and employee cafeterias. No matter where it's installed, the fan's unique design directs air outward from the center in a conical shape, eliminating dead-air holes directly beneath the fan and in building corners - translating to more uniform airflow from floor to ceiling and from wall to wall.

The Revolution SP is engineered with a rotationally balanced blade/hub connection along with vibration-absorbing resilient material that reduces stress to the hub by 50 to 75 percent, both of which add to longevity. A robust motor and an extruded, precision-milled aluminum hub provide reliable operation with virtually no maintenance. For ease of installation, the Revolution SP Fan features a steel universal mounting bracket. The mounting system includes a beam clamp, motor housing, and a three-way motor-to-hub safety connection.

The Revolution SP Fan comes with a three-year parts and one-year customer satisfaction money-back guarantee in addition to a 10-year structural integrity warranty. Contact a Rite-Hite representative to learn more and ask for a custom energy-cost analysis. Call 1-800-465-0600, or email: info@ritehite.com. More information on the Revolution SP Fan and the larger Revolution Fan is also available at http://www.ritehitefans.com/

More from Optics & Photonics