Compact Computer Board affords versatility via connectivity.
Press Release Summary: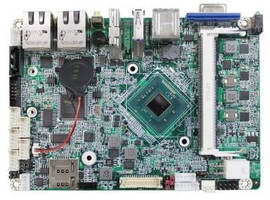 Powered by soldered onboard Intel® 1.33 GHz dual-core Atom E3825 or 1.91 GHz quad-core E3845 CPU, 3.5 in. EmCORE-i230G comes in -4 to +158°F and -40 to +185°F models. Connectivity is fostered via 6 USB 2.0, one USB 3.0/2.0, and 2 RS232/485 ports as well as mini PCI Express, micro SDXC, and micro SIM expansion sockets. LVDS, VGA, and HDMI display outputs are also standard along with SATA3 port, CFast socket, 2 independent LAN controllers, HD audio, and DIO.
---
Original Press Release:

Arbor Solution Introduces Latest Compact, Ultra-Versatile Computer Board



EmCORE-i230G Offers Choice of Low-Power Dual-Core or Quad-Core Processor, Provides Industrial Temperature Options, and Includes Wide Offering of I/O Interfaces



SAN JOSE, Calif. – Arbor Solution, a leading industrial-PC (IPC) provider of embedded computing solutions, announces the introduction of its latest compact computer board, the 3.5" EmCORE-i230G, featuring either an Intel low-power dual-core Atom E3825 1.33GHz or quad-core E3845 1.91GHz processor soldered onboard. As part of Intel's E3800 family of processors, both deliver outstanding computer and graphics performance. The economically priced EmCORE-i230G is offered in both extended temperature (-4 - 158 degrees Fahrenheit) and wide temperature (-40 - 185 degrees Fahrenheit) models.



"The EmCORE-i230G is one of our most versatile computer boards yet," commented Brian Yurkiw, Arbor Solution vice president. "Its wide array of I/O interfaces allows the board to serve as an anchor for communications and control boxes. These extensive options offer system integrators tremendous flexibility. Even if a project does not require using all of the I/O interfaces, keeping options available help 'futureproof' a system by allowing room for replacement or redesigned components."



I/O Aplenty

Among the over-one-dozen I/O connections the Arbor Solution EmCORE-i230G comes with are: six USB 2.0 ports and one USB 3.0/2.0 port; two RS232/485 selectable serial ports; mini PCI Express, micro SDXC, and micro SIM expansion sockets; and one each LVDS, VGA, and HDMI display outputs. It also comes with one SATA3 port; one CFast socket; two independent LAN controllers; HD audio; and DIO.



Usages

The combination of heat and cold tolerance and extensive I/O offerings - especially its atypically large USB count - make the EmCORE-i230G perfect for installations such as outdoor kiosks, which are exposed to a wide-temperature variance and depend on a large array of devices that interface with the computer board. Applications such as gas, oil, and mining, which are exposed to both high and low temperature extremes, are other areas where the EmCORE-i230G makes an ideal solution.



Additional Features

--  Supports dual independent displays

--  Embedded 4GB, 8GB, or 16GB eMMC 4.5 storage

--  Integrated Intel® HD graphics chipset

--  Analog RGB with resolution up to 2048x1536 (HDMI) and dual channel 24-bit LVDS with resolution up to 1920x1200 graphics interfaces

--  Onboard CFast and eMMC options reduce physical footprint by allowing storage to be mounted directly onboard

--  Windows 7, Windows 8.1, Windows 10 and Linux support

--  Optional cable kit that includes: one audio cable, two serial port latching cables, one KB/MS latching Y-cable, one SATA cable, one SATA power cable, and two USB cables



Availability and Pricing

The versatile Arbor Solution EmCORE-i230G 3.5" compact computer board is available from authorized resellers throughout the U.S. and Canada. MSRPs are as follows: Extended-temperature models: EmCORE-i230G-E3825, $253; EmCORE-i230G-E3845, $290; wide-temperature models: EmCORE-i230G-WT-E3825, $292; and EmCORE-i230G-WT-E3845, $327.



For more information about the Arbor Solution EmCORE-i230G, click here.



About Arbor Solution, Inc. North America

Arbor Solution, Inc. North America provides embedded systems and rugged tablets to a variety of markets. Its expertise as an Industrial PC (IPC) provider makes it uniquely positioned to provide reliable solutions through a customer-first approach. Its products are known for their high productivity, convenience, efficiency, cost-effectiveness, and dependability. The company is at the forefront of the technology required to conduct business in challenging applications, encompassing operating environments to product size and the coding needed for specialized applications. Arbor Solution North America offices are located in the US in San Jose, CA; Florence, MA; Gaithersburg, MD; and Houston, TX; and in Canada in Ottawa, Ontario. The company is part of Taiwan-based Arbor Technology Corporation.



For more information, visit www.arborsolution.com or e-mail us at sales@arborsolution.com.



All products/services and trademarks mentioned in this release are the properties of their respective companies. ©2015 Arbor Solution, Inc. North America. All rights reserved.



CONTACT:

Nicole Fait

714-891-3660

Arborsolution@copernio.com

More from Material Handling & Storage