Compact But Full-Service Floor Cleaning System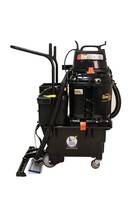 Kaivac's award-winning SUV™ floor cleaning system is a compact, full-service floor cleaning system combining high speed, push-behind cleaning for small to large floor areas.
Excellent for cleaning all types of floors, use it on grouted restroom tiles, entrances, aisle ways, hallways, lobbies, gyms, food service areas and more.
Easy to store and transport, the SUV system cleans up to 20,000 square feet per hour and removes 99 percent of surface soils, comparable to a high-end auto scrubber but without the high costs and frequent repair bills. For more information, visit https://www.kaivac.com/p_107-OmniFlex-SUV or call 800-287-1136.
Contact This Company Download Spec Sheet
More from Cleaning Products & Equipment