Compact Airline Check-In Station enables remote check-in.
Press Release Summary: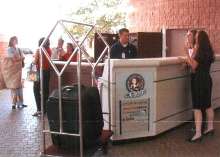 Compact iMUSE Express(TM) sets up in minutes at any location with standard Internet connection, allowing passengers to pick up boarding passes and check baggage before coming to airport. Available as standard workstation or portable suitcase version, iMUSE Express(TM) uses scaled-down version of iMUSE(TM) check-in system found at major airports. It supports peripherals such as printers used for baggage tags and passenger boarding passes.
---
Original Press Release:

ARINC Unveils a Compact Airline Check-In for Hotels, Train Stations, Other Sites


Annapolis, Maryland, USA, September 15, 2003-ARINC Incorporated today revealed details of a compact, inexpensive airline check-in system that could reduce airport lines by allowing passengers to pick up boarding passes and check baggage before coming to
the airport. The low-cost system can be easily installed at off-airport sites such as train stations, hotels, convention centers, and cruise line terminals.

The system-iMUSE Express(TM) -is a secure workstation that sets up in minutes at any location with a standard Internet connection. It is available as a standard workstation or a compact, portable "suitcase" version. It uses a scaled-down version of ARINC's industry-standard iMUSE(TM) check-in system found at major airports worldwide.

ARINC developed a special secure Internet technology for iMUSE Express. By Using the Internet instead of a costly dedicated network connection, iMUSE Express makes off-site check-ins affordable at a multitude of locations. As with all airport check-ins, operators of iMUSE Express in the U.S. must obtain proper security training and certification from the Transportation Security Administration (TSA).

The system supports airport peripherals like the printers used for baggage tags and passenger boarding passes. Because of its low cost and simple installation, ARINC expects to market iMUSE Express to small airports, airlines in seasonal markets, city ticket offices, cruise lines, parking terminals, rental car facilities, transit stations, and convention centers.

Another possibility is the creation of mid-city drop-offs to accept luggage from air travelers. "Until today, mid-city drop-offs have been too costly to catch on," stated John Dungan, ARINC's Senior Product Manager. "Now iMUSE Express reduces that cost by an order of magnitude. Eliminating the need for dedicated circuits makes iMUSE Express far less expensive than any alternative."

The first iMUSE Express system is already in use at the Rosen Centre Hotel in Orlando, Florida, where it is operated by employees of Baggage Airline Guest Services (BAGS), a service provider. Hotel guests planning to depart on Delta Air Lines, Delta Song, American Airlines or Continental can check in for their flights right in the hotel lobby. BAGS personnel issue them a secure boarding pass and accept checked baggage, which is stored securely and delivered by BAGS to the airlines at Orlando International Airport. Passengers may check in and leave their luggage as early as 12 hours in advance of their flights.

ARINC Airport Systems Division develops the world's most efficient common-use passenger technologies for the air travel industry. ARINC MUSE® check-in and boarding systems are used by 260 airlines at more than 50 airports, ARINC SelfServ(TM) kiosks are the only IATA CUSS-compliant systems now loading passengers around the world.

ARINC Incorporated is the world leader in transportation communications and systems engineering. The company develops and operates communications and information processing systems and provides systems engineering and integration solutions to five key industries: airports, aviation, defense, government, and surface transportation. Founded to provide reliable and efficient radio communications for the airlines, ARINC is headquartered in Annapolis, Maryland, and operates key regional offices in London and Singapore, with over 3,000 employees worldwide. ARINC is ISO 9001 certified. For more information, visit the ARINC web site at www.arinc.com.

More from Electrical Equipment & Systems