Compact, 4-Port PoE Midspan suits SMB applications.
Press Release Summary: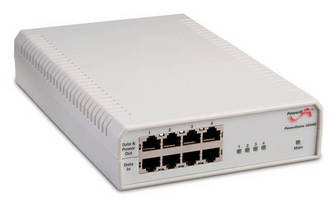 Designed for low-port-density networks, PowerDsine® PD-3504G midspan is IEEE 802.3af-compliant to power WLAN access points, IP security cameras, VoIP phones, and access control systems. Product enables delivery of data and power over standard Ethernet cable and supports GbE data transmission, enabling it to power 10/100/1000Base-T network devices. It delivers 15.4 W/port and also includes EMI Class B support. Measuring less than 6 in. wide each, up to 3 units can fit in 19 in. rack.
---
Original Press Release:

Microsemi Releases Compact, Four-Port Power-over-Ethernet Midspan for Small to Medium-Sized Business Applications



Extends Company's Offering for Low-Port-Density Networks

IRVINE, Calif. - Microsemi Corporation (Nasdaq:MSCC), a leading manufacturer of high performance analog mixed-signal integrated circuits, high reliability semiconductors and RF subsystems, today announced a compact, cost-effective four-port Power-over-Ethernet (PoE) midspan designed to power a wide range of network devices in low-density applications.

Microsemi's new PowerDsine® PD-3504G midspan is fully compliant with IEEE 802.3af specifications to safely power wireless LAN (WLAN) access points, IP security cameras, VoIP phones, access control systems and other devices over existing standard Ethernet cabling.

The new four-port PoE midspan joins Microsemi's single-port PD-3501 and PD-3501G products for low density installations, and is part of a growing family that supports up to 24-port implementations in both standard- and high-power applications with a variety of smart power-management and remote-maintenance capabilities.

The PD-3504G PoE midspan enables delivery of both data and power over a single standard Ethernet cable, eliminating the need for an external power supply and its associated AC/DC power cabling. It provides a compact, affordable, safe and reliable power-delivery solution over the existing Ethernet infrastructure.

The PD-3504G PoE Midspan supports Gigabit Ethernet data transmission, enabling it to power 10/100/1000Base-T network devices including wireless IEEE 802.11n access points and wireless WiMAX access points. The PD-3504G midspan's breakthrough size, performance and cost will simplify PoE deployment in small businesses and residential environments.

KEY FEATURES

- IEEE802.3af-compliant

- Delivers 15.4W per port for all ports

- 10/100/1000-BaseT support

- Small footprint (less than 6 inches in width; 3 units can fit in a 19-inch rack)

- High power efficiency

- EMI Class B support

- Powering of pre-standard devices including Cisco equipment

- Per-port, concise LED visibility

"We are pleased to offer our customers the newest addition to the PowerDsine family of midspans," said Sani Ronen, senior product line manager for Microsemi's PowerDsine midspans. "The PD-3504G will enable cost-effective PoE deployment in small to medium-sized business applications, while also offering an improved power efficiency scheme. The PD-3504G product also offers the well known PowerDsine quality, reliability and superior performance--including full data integrity in 10/100/1000Mbps applications--plus the market's highest margins for meeting EMI Class B requirements."

Pricing and Availability

PD-3504G midspans are available in production volumes. For OEM pricing please contact Microsemi. Product specification and application whitepapers are available. Additional information is available at Microsemi's website: www.microsemi.com.

About Microsemi

Microsemi Corporation, with corporate headquarters in Irvine, California, is a leading designer, manufacturer and marketer of high performance analog and mixed-signal integrated circuits, high reliability semiconductors and RF subsystems. The company's semiconductors manage and control or regulate power, protect against transient voltage spikes and transmit, receive and amplify signals.

Microsemi's products include individual components as well as integrated circuit solutions that enhance customer designs by improving performance and reliability, battery optimization, reducing size or protecting circuits. The principal markets the company serves include implanted medical, defense/aerospace and satellite, notebook computers, monitors and LCD TVs, automotive and mobile connectivity applications. More information may be obtained by contacting the company directly or by visiting its website at www.microsemi.com.

SOURCE: Microsemi Corporation

More from Packaging Products & Equipment