DC to DC Power Supplies (Converters)
Compact 20 W DC/DC Converters achieve 51 W/in.³ power density.
Press Release Summary: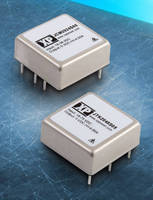 Supplied in 1 x 1 x 0.39 in. package, JCM20 and JTK20 series achieve up to 89% efficiency. While JTK20 series accommodates 4:1 input range and offers 9-36 or 18-75 Vdc options, JCM20 series has 2:1 input range and offers 9-18, 18-36, or 36-75 Vdc options. Single-output models provide +3.3, +5, +12, or +15 Vdc, while dual-output models offer ±5, ±12, or ±15 Vdc. All outputs are fully regulated to within ±0.5% for single output models and less than ±1.0% for dual output versions.
---
Original Press Release:

Ultra Compact 20 Watt DC-DC Converters Achieve 51 W/in³ Power Density



XP Power today announced additions to its range of low power metal cased DC-DC converters with the launch of the 20 Watt JCM20 and JTK20 series. Aimed at space constrained portable applications, these highly efficient board mounted converters provide either single or dual regulated outputs from an ultra compact 1 x 1 x 0.39 inch (25.4 x 25.4 x 9.90 mm) package. Achieving an industry leading power density of up to 51 Watts per cubic inch and an efficiency of up to 89%, these tiny units are ideal for applications where PCB space for the converter needs to be kept to the minimum and an industry standard package pinout is required. These products can replace existing 1" x 2" packages thus reducing required board space by 50%.

The JTK20 series accommodates an ultra wide 4:1 range, and is available with either 9 - 36 or 18 - 75 VDC input voltage. With a 2:1 wide input range, the JCM20 series offers three input ranges of 9 - 18, 18 - 36 or 36 - 75 VDC inputs. Single output models provide +3.3, +5, +12 or +15 VDC, while the duals offer +/-5, +/-12 or +/-15 VDC. All outputs are fully regulated to within +/- 0.5% over all input and load conditions for the single output models and less than +/- 1.0% for the dual outputs. Single output models have an output trim that allows adjustment within +/- 10% of nominal output. Input to output and input/output to case isolation of 1,600 VDC is provided across the range.

Able to work in most environments, the JTK20 can operate at full load from -40 to +55 degrees C, and the JCM20 up to +65 degrees C, without the need for any additional heatsinking or forced airflow. With derating the JCM20 can operate up to +100 degrees C, and +105 degrees C for the JTK20.

Both series feature remote on/off control. This can be used to control the output rails or to sequence start-up procedures. All units also feature overvoltage, overload and short circuit protection.

All products have a 3 year warranty.

Prices range from $39.00 for a 500 pcs order of single output JCM20 to $49.14 for the same quantity of a single output JTK20 and are available from Newark or direct from XP Power.

For further information and reader enquiries:

Duane Darrow, XP Power, 990 Benecia Avenue, Sunnyvale, CA 94085

Tel: (408)732-7777 Email: ddarrow@xppower.com
Fax: (408)732-2002 Web: www.xppower.com

William Sng SK, XP Power (Singapore) PTE LTD

Tel: +65 68469368 Email: wsng@xppower.com
Fax: +65 67418730 Web: www.xppower.com

For further information, text and graphics by email or to discuss feature article opportunities:

Robert Huntley, Publitek Limited, 18 Brock Street, Bath, BA1 2LW, United Kingdom

Tel: +44 (0) 1225 470000 E-mail: robert.huntley@publitek.com
Fax: +44 (0) 1225 470047 Web: www.publitek.com

XP Power is committed to being a leading provider of power solutions, including AC-DC power supplies and DC-DC converters. With ISO9001:2008, XP Power offers total quality, from in-house design through to manufacturing facilities around the world. The company offers the widest range of power products available from one source and unrivalled technical and customer support, aiding both vendor consolidation and cost reduction programmes. XP has 27 sales offices throughout Europe, North America and Asia.

XP Power Ltd, a London Stock Exchange listed public company, has design centres in Fyfield (UK), Orange County (California), and Singapore, which also serves as the company's headquarters. Manufacturing is carried out near Shanghai, China. The design teams push back the boundaries of cost and technology, providing market leading power products. Dedicated in-house Engineered Solutions teams provide customer specific solutions, with rapid response times. The applications team provide expert technical support to help customers integrate and use XP power products worldwide.

www.xppower.com