Compact 1/3 RU Router incorporates mpeg encoder/decoder.
Press Release Summary: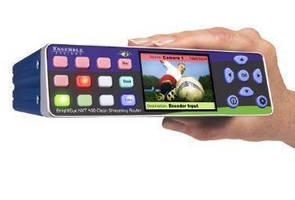 Along with H.264 coding techniques, BrightEye NXT 450 offers real-time MPEG unicast, multicast, and DVB-ASI capabilities. Gigabit Ethernet can be received via RJ-45 connector as unicast or multicast, MPEG-2 or MPEG-4 decoded to 3G, HD, SD SDI with embedded audio, and can be mixed or intercut with other sources connected to router. Decoded and encoded video can be seen in real-time and full motion on LCD on front of unit, and full duplex codec allows simultaneous use of the encoder and decoder.
---
Original Press Release:

Ensemble Designs Streams Into IBC



AMSTERDAM -- Ensemble Designs is introducing a new model of its award winning BrightEye NXT line of Compact Routers.  The BrightEye NXT 450 incorporates a high quality, high profile mpeg encoder/decoder to the already formidable feature set of the BrightEye NXT 430-X.  Its advanced H.264 coding techniques give superb performance at low bit rates.



"First we made a clean and quiet compact router in 1/3 RU," said David Wood, CEO and Chief Design Engineer at Ensemble Designs.  "Then we added clean and quiet switching of HDMI and HDCP encrypted sources alongside SDI sources.  And then at InfoComm this year, we introduced new BrightEye NXT compact routers that incorporate up/down/cross conversion functionality along with functions like dissolves, router salvos and control from anywhere via web browser enabled devices.  Now at IBC we're adding the BrightEye NXT 450 that has real time MPEG unicast, multicast and DVB-ASI capability - and it's still only 1/3 RU."



"This is incredibly powerful," added Mondae Hott, Director of Sales at Ensemble Designs. "Now it's possible for users to hook up SDI and HDMI devices without worrying about timing issues, convert them to a common Standard Definition or High Definition format as simply as selecting a source and pushing the TAKE button, intercut or dissolve them seamlessly to a very high quality MPEG encoder for realtime streaming, while simultaneously sending them to SDI or HDMI destinations.  And all this is in a device the size of a paperback novel."



The BrightEye NXT 450's new encoding functionality produces simultaneous transport streams including one high-resolution and one low-resolution unicast stream, one multicast stream, and a DVB-ASI stream. Sources can be seamlessly routed to the encoder that outputs the various streams to an RJ-45 Ethernet connector on the back of the unit.  The DVB-ASI formatter produces a DVB-ASI format stream that can be sent to a BNC or Fiber port for distribution.



The BrightEye NXT 450 also includes an MPEG decoder. Gigabit Ethernet can be received via the RJ-45 connector as either unicast or multicast, MPEG-2 or MPEG-4 decoded to 3G, HD, SD SDI with embedded audio, and can be mixed or intercut with other sources connected to the router.  Decoded and encoded video can be seen in realtime and full motion on the LCD display on the front of the unit. The full duplex codec allows simultaneous use of the encoder and decoder.



"Think about this for a minute," remarked Robert Nunez, sales for Ensemble Designs.  "Someone can go out in the field with a set-up as simple as a camera, an iPad, a disk recorder and a BrightEye NXT 450 and then be able to distribute content via streaming video in hi-rez or low-rez format, SDI video via microwave or fiber optic land line, and HDMI to local displays or projectors - all at the same time, and all with video sources switched or dissolved cleanly and quietly.  And if someone throws a curve ball and has a source in a resolution outside the distribution format, the BrightEye NXT can convert it on the fly to the correct format for the telecast.  Try getting all that functionality out of any other router!"



The BrightEye NXT line of compact routers includes the BrightEye NXT 430, clean and quiet SDI router; the BrightEye NXT 410 HDMI/SDI clean and quiet compact router; the BrightEye NXT 430-X clean and quiet, converting, compact router, the BrightEye NXT 410-H HDMI/HDCP/SDI clean and quiet, converting, compact router; and now the BrightEye NXT 450 streaming, clean and quiet, SDI, HDMI, converting, compact router. In addition, there is the BrightEye NXT 415, a competitively priced compact router for those not requiring clean switching.



"We're all on the edge of our seat wondering what else the engineers can squeeze into this little router," said Jay Warner, Sales for Ensemble Designs.  "In less than two years, we have introduced six different models of compact router, each with greater and greater functionality. Adding streaming to the already powerful set of features on the NXT line is the perfect solution for those productions that distribute their content via the Internet, yet require SDI and HDMI destinations as well. It's the perfect package in a tiny footprint."



Hard Surface Control Panel For The Avenue Layering Engine



Ensemble Designs also announced the addition of a hard surface control panel for their award winning Avenue Layering Engine product.  The IP connected control panel brings a solid hardware user interface to its already easy to use web browser control software.



"This is a real panel with real buttons to control keying and vision mixing functions positively and instantly," said David Wood, CEO and Chief Design Engineer with Ensemble Designs. "In addition, the panel works with other interfaces making it the perfect solution for use with automation. The operator can quickly and positively override automation functions in the event of a service disruption or equipment failure."



The new control panel features a front panel LCD display that shows thumbnails of sources allowing instant verification of switching selections. When used alongside the award winning web browser interface that can be accessed with any web browser enabled device such as an iPad or laptop computer, all of the functionality of the powerful vision mixing and keying system can be harnessed in a compact, easy-to-use control position.  The new control panel is connected via IP allowing access from anywhere on the network, and can be powered via POE for easy, single wire hook up. Source selection, cuts, dissolves, and three levels of keying can be independently controlled via the new control panel.



"Customers have been asking for a hard control surface for the Avenue Layering Engine and now we have delivered it," said Mondae Hott, Director of Sales with Ensemble Designs. "This easy to use interface is a beautiful compliment to the elegant award winning keying and vision mixing software interface.  The fact that it works along side automation interfaces, makes it a wonderful solution for master control or bypass situations."



The new control panel will be introduced and demonstrated along with all the other powerful Avenue Layering Engine features at IBC 2014 stand 8.B91 at the Amsterdam RAI September 12 - 16.



Based in Grass Valley, California and formed in 1989, Ensemble Designs is a leading provider of signal processing and infrastructure products. Customers include Lockhead, NASA, Major League Baseball, Olympic Broadcast Organisation, General Atomics, and ESPN.



CONTACT: John Pichitino, Ensemble Designs, www.ensembledesigns.com, +1 530.478.8328, pich@ensembledesigns.com

More from Agricultural & Farming Products