Commutation Encoders cut assembly time on BLDC motors.
Press Release Summary: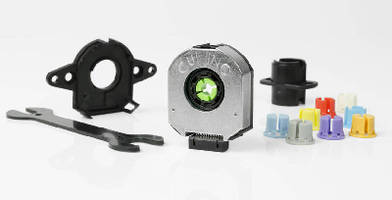 Measuring 1.125 x 1.467 x 0.407 in., AMT31 Series generates U/V/W commutation signals for vectoring current to brushless motors. Positional information is generated using capacitive code generation system coupled with ASIC. Commutation output can accommodate brushless motors with 2, 4, 6, 8, 10, 12, or 20 pole pairs, selectable from factory or via AMT Viewpoint™ GUI. Incorporating One Touch Zero™ feature, series offers ±12 arcmin accuracy and 20 programmable resolutions from 48–4096 ppr.
---
Original Press Release:

Rugged and Accurate Commutation Encoder Drastically Reduces Assembly Time on BLDC Motors



CUI's Capacitive Technology Enables a Unique Combination of Durability and Flexibility



TUALATIN, Ore. — CUI Inc has announced an addition to its next-generation modular encoder series that generates standard U/V/W commutation signals for vectoring current to brushless motors. 



Positional information for the AMT31 series is generated using CUI's patented, capacitive code generation system coupled with a proprietary ASIC.  The technology makes the encoder ideal for use in brushless dc motor applications subject to vibration and contaminants - such as dust, dirt and oil - that typically stop optical encoders from working effectively. The AMT31 series also delivers exceptional accuracy figures of +/- 12 arcmin (±0.2 mechanical degrees). 



Thanks to the digital nature of the encoder design, the AMT31 series incorporates a One Touch Zero™ feature, allowing for significant time saving during the motor installation process. Installing a commutation optical encoder onto a brushless dc motor (BLDC) can be an iterative and time-consuming process as the optical disk must be physically and precisely rotated to align with the correct motor windings. Once aligned, the assembly must then be checked via back EMF to ensure mounting accuracy and this process can take upwards of 15 minutes per motor. The AMT, being ASIC and MCU based, reduces this time consuming process to a few seconds via the One Touch Zero feature, saving time and cost during the manufacturing process.



Commutation output can accommodate brushless motors with 2, 4, 6, 8, 10, 12 or 20 pole pairs, selectable from the factory or via CUI's AMT Viewpoint™ graphical user interface.  The AMT31 also offers supplementary incremental A, B, and Z channels for various servo positioning and startup sequences.  20 programmable resolutions are available with a range of 48 to 4096 PPR, again adjustable at the factory or via CUI's AMT Viewpoint. For quick analysis during design or in the field, the AMT31 implements an onboard diagnostic system, allowing access to a range of parameters.



"We're excited to introduce our next generation of commutation encoder technology to the market," stated Jeff Smoot, CUI's VP of Motion Control Products. "Not only does our AMT encoder platform deliver an unrivaled combination of accuracy and durability without the need to compromise, it also delivers a high level of flexibility and intelligence that allows users to drastically reduce development and assembly time compared to existing solutions on the market." 



The compact series measures 28.58 x 37.25 x 10.34 mm (1.125 x 1.467 x 0.407 in.) and features an ultra-wide -40 to 105 °C operating temperature range.  A current draw of 10 mA at 5 Vdc makes the AMT31 series ideally suited to mobile and battery-driven equipment.



An input range of 4.5~5.5 Vdc is standard, with options for CMOS voltage or line driver outputs.  Additional options include radial or axial connector orientations, 9 mating sleeves ranging from 2 mm to 8 mm, and base plates with multiple pre-drilled mounting hole patters to mate with a wide range of motors.



The AMT31 series is available now through distribution with prices starting at $31.13 per unit at 100 pieces.  Please contact CUI for OEM pricing.



Learn more about CUI's AMT encoder family



About CUI Inc

CUI Inc is a technology company focused on the development and distribution of electronic components. At the leading edge of power supply design, the organization supports customers as they strive to improve the energy efficiency and environmental credentials of their application.  The company's power group is complemented by a portfolio of world-class board level components, consisting of interconnect, sound, motion control and thermal products.  An unwavering commitment to create collaborative partnerships with customers and a drive to see that their design project is a success has been a hallmark of CUI's sustained growth since its founding in 1989.   As a leader in the industry, CUI will continue to invest in the future through new technologies, talented employees, expanded manufacturing capabilities, and a growing global reach.



CUI Inc is a subsidiary of CUI Global, Inc., a publicly traded company whose common stock trades on the NASDAQ Exchange under the symbol CUI.



Media contacts

CUI Inc

Maggie Lefor

+1 503 612 2300

mlefor@cui.com

twitter.com/cuiinc





More from Controls & Controllers