Communications Protocol offers accurate event reporting.
Press Release Summary: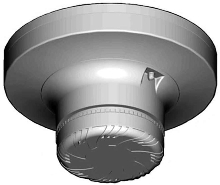 SmartScan is offered on company's IdentiFlex 600 Series fire control panels. It provides alarm verification per detector and is fully digital. Panel end-to-end response is reduced to less than 5 sec, and 198 devices per loop can be supported. Protocol enables loop distances up to 12,000 ft of twisted pair, parallel pair, THHN, and shielded wire types. One loop poll covers 10 devices.
---
Original Press Release:

New Smartscan Protocol Offered On All Gamewell 600 Series Analog Addressable Panels


Improves Speed and Accuracy of Event Reporting

NORTHFORD, Conn. - Gamewell, a manufacturer of commercial fire alarm control panels and emergency life safety systems, and part of the Honeywell (NYSE: HON) Life Safety Group, introduces SmartScan - a new, fully digital communications protocol for improved event-reporting speed and accuracy. The latest addition to an expanding portfolio, SmartScan provides alarm verification per detector and polling speed that is 10-15 times faster than existing protocols. The new protocol reduces panel end-to-end response to less than five seconds and supports 198 devices per loop (99 detectors and 99 modules).

Additional SmartScan benefits include detector adjustability and compensation as well as adjustable analog heat detector range circuit isolation and priority interrupts. The protocol also enables longer loop distances -up to 12,000 feet of twisted pair, parallel pair, THHN and shielded wire types. With SmartScan, one loop poll now covers 10 devices, which provides more information and faster alarm response per device poll. SmartScan also offers the advantage of allowing for a greater variety of detection devices and Input/Output (I/O) modules.

SmartScan is available on all Gamewell IdentiFlex 600 Series fire control panels. Two new SmartScan panels have been introduced -the IF602SS and the IF610SS. SmartScan modules are available to enhance the IF632, IF654 and IF658. The new communications protocol supplements the previous XP95 applications, doubling the Gamewell 600 Series Panel portfolio. In addition, the IF632, IF 654 and IF658 continue to be compatible with Gamewell's classic AM500 addressable protocol.

Honeywell International is a $26 billion diversified technology and manufacturing leader, serving customers worldwide with aerospace products and services; control technologies for buildings, homes and industry; automotive products; turbochargers; and specialty materials. Based in Morris Township, N.J., Honeywell's shares are traded on the New York, London, Chicago and Pacific Stock Exchanges. It is one of the 30 stocks that make up the Dow Jones Industrial Average and is also a component of the Standard & Poor's 500 Index. For additional information, please visit www.honeywell.com. Gamewell, part of the Honeywell Life Safety Group, is a leading manufacturer of commercial fire control panels and emergency life safety systems.

For more information visit www.gamewell.com.

More from Architectural & Civil Engineering Products