Communications Processor fosters high-availability networking.
Press Release Summary: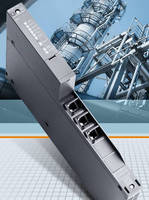 Utilizing Parallel Redundancy Protocol (PRP) in accordance with IEC 62439-3 standard, CP 443-1 RNA features 2 RJ45 ports for connecting 2 parallel Industrial Ethernet networks. Data can be transmitted in full or half-duplex mode in bandwidths of 10 or 100 Mbps. Product supports open communication via TCP/IP, UDP, and ISO transport protocol as well as S7, PG/OP, and S7 H communication for S7-400 H systems. Also available, third Ethernet interface only supports S7 communication services.
---
Original Press Release:

High-Availability Networking for Controllers



• Simatic CP 443-1 RNA offers redundant networking via PRP for S7-400

• High connection availability through parallel data transfer via separate network structures



The Siemens Industry Automation Division has expanded its portfolio for RNA (Redundant Network Access) components with a communications processor which facilitates high-availability connection of the Simatic S7-400 controller to networks.



Simatic CP 443-1 RNA utilizes the Parallel Redundancy Protocol (PRP) in accordance with the IEC 62439-3 standard. The communications processor features two RJ45 ports for connecting two parallel Industrial Ethernet networks. The CP 443-1 RNA doubles the frame and feeds it into the two connected networks. The network access point on the receiver side relays the first incoming frame to the addressees and discards the later frame.



Simatic CP 443-1 RNA is designed among other things for use in process industry plants and power generation and distribution applications. The new communications processor supports open communication via TCP/IP, UDP and the ISO transport protocol as well as S7, PG/OP and S7 H communication for S7-400 H systems. Data can be transmitted in full or half-duplex mode in bandwidths of 10 or 100 Mbit/s. The user can view diagnostics information via SNMP, STEP 7 or the Web server of the communications processor.



In addition the CP 443-1 RNA has a third Ethernet interface with restricted functional scope. On the basis of the ISO transport protocol, the port supports S7 communication services only, all others are deactivated. Fewer functions mean less testing overhead and lower qualification costs. All Simatic CP 443-1 RNA functions are configured with STEP7 engineering software, V5.5 SP2 or higher and the hardware support package included in the scope of delivery.



In addition to Simatic CP 443-1 RNA, Siemens also offers additional components for building high-availability network connections in the form of Scalance X-200RNA network access points and the Softnet IE-RNA network access software.



The Simatic CP 443-1 RNA communications processor facilitates networking of the Simatic S7-400 controller via a redundant, high-availability PRP connection accord-ing to the IEC 62439-3 standard.



Contact for journalists:

Siemens AG, Media Relations

Peter Jefimiec

Tel.:+49 911 895 7975

E-mail: peter.jefimiec@siemens.com



You can find this press release and a photo on the Internet at

http://www.siemens.com/press/pi/IIA2013043417e



More information on the topic of redundant network structures can be found at www.siemens.com/rna



The Siemens Industry Sector (Erlangen, Germany) is the world's leading supplier of innovative and environmen-tally friendly products and solutions for industrial customers. With end-to-end automation technology and industrial software, solid vertical-market expertise, and technology-based services, the Sector enhances its customers' productivity, efficiency, and flexibility. With a global workforce of more than 100,000 employees, the Industry Sector comprises the Divisions Industry Automation, Drive Technologies and Customer Services as well as the Business Unit Metals Technologies. For more information, visit http://www.siemens.com/industry



The Siemens Industry Automation Division (Nuremberg, Germany) supports the entire value chain of its industri-al customers – from product design to production and services – with an unmatched combination of automation technology, industrial control technology, and industrial software. With its software solutions, the Division can short-en the time-to-market of new products by up to 50 percent. Industry Automation comprises five Business Units: Industrial Automation Systems, Control Components and Systems Engineering, Sensors and Communications, Siemens PLM Software, and Water Technologies. For more information, visit www.siemens.com/industryautomation

More from Communication Systems & Equipment