Communications Kit assists first responders.
Press Release Summary: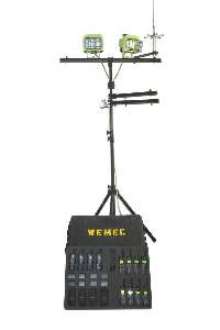 WEMEC Wireless Enhanced Mobile Emergency Communications Kit links satellite, cellular, and landline phone access, maintaining vital communications during emergency situations. In event of terrorist attack, earthquake, tornado, fire storm, or hostage situation, system can be deployed in minutes to aid first responder communication. WEMEC may deployed as stand-alone system or behind mobile command center to allow up to 36 users to share 4 phone lines.
---
Original Press Release:
EnGenius Announces WEMEC Rapid Deployment Communications Kit for Homeland Security First Responders

-RAPID DEPLOYMENT SYSTEM LINKS SATELLITE, CELLULAR AND LANDLINE PHONE ACCESS, MAINTAINING VITAL COMMUNICATIONS DURING EMERGENCY SITUATIONS-

Costa Mesa, CA -1 June 2004 - EnGenius Technologies, industry leader in long-range cordless telephony and datacom products, announces the WEMEC (Wireless Enhanced Mobile Emergency Communications) kit. In the event of a terrorist attack, earthquake, tornado, fire storm, or hostage situation, the system can be deployed in minutes to aid first responder communication.

"The core gear of the WEMEC was used on 9/11 to let firefighters call home. The communications issues at Ground Zero lead to the development of WEMEC," commented company brand-manager Doug Hayter.

For emergency situations, in government buildings, healthcare facilities, schools or temporary events like conventions, concerts and other public events, the WEMEC can be deployed as a stand alone system or behind a mobile command center to quickly allow up to 36 users to share 4 phone lines and stores within a self-contained, portable case. The WEMEC works by utilizing any combination of satellite, cellular, and landlines to provide long-range cordless phone and private 2-way radio access.

For more information, contact EnGenius Technologies at 888-735-7888.

About EnGenius Technologies, Inc.

EnGenius Technologies Inc. is the award-winning manufacturer of EnGenius Long Range Industrial Cordless Phones and the WEMEC (Wireless Enhanced Mobile Emergency Communication) system. The Company leads the industry in providing wireless telecom solutions throughout North America. A distance range of 12 vertical floors, 3,000 acres, 250,000 square feet and the ability for its signal to penetrate through concrete and steel has made EnGenius Industrial Cordless Phones the first choice of government, police, fire, city managers and security professionals nationwide. For more information contact EnGenius at 888-735-7888 and online at www.engeniustech.com.

For more information from EnGenius Technologies, Inc. contact: April Howard EnGenius Technologies, Inc. 714-432-8667, Ext. 848 howard@engeniustech.com
More from Printing & Duplicating Equipment