Communication System sends messages, shows pictures.
Press Release Summary: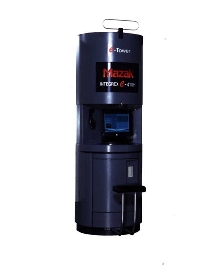 e-Tower multimedia communication device provides production scheduling and real-time machine status plus visual images through installed cameras. From PC, machine operation and job status can be monitored in real time, individual machine production scheduling data can be downloaded via factory network, and schedules can be modified. Every alarm switch on machine issues verbal and written warning with corrective actions displayed.
---
Original Press Release:
Mazak's e-Tower: a Powerful Communication Device to Enhance Productivity on the Shop Floor

Mazak Corporation introduces "e-Tower," a multimedia communication device equipped for a new generation of Mazak Integrex e-series machines. The Mazak e-Tower has been developed to allow the most efficient and productive operation and maintenance of the machine on the shop floor. The e-Tower not only has production scheduling and real-time machine status but also offers visual images through installed cameras and alarm messaging to remote PCs or cellular telephones.

The e-Tower's PC allows a production manager, using their remote office PC, to monitor machine operation status and job status in real time, download individual machine production scheduling data via the factory network, and quickly modify the schedule in order to meet an urgent deadline or to simply improve the flow of production.

At the e-Tower itself, the operator has access to a comprehensive range of information. Eleven function keys along the base of the screen provide easily accessible data about the machine tool and its most productive operating modes.

All machine operating and maintenance manuals are available on-screen in multimedia mode, along with a virtual training program that covers every aspect of machine utilization from component drawings to optimized metal cutting. Areas covered include tool and fixture selection, machine setups, all aspects of programming, cutting simulation, prove-out details and troubleshooting. The tutorial is animated with a "voice over" and written instructions displayed on the screen.

There is a section devoted to virtual tooling recovery and the automatic tool changer (ATC) - the latter being an area traditionally associated with lengthy and time consuming remedial action in the event of a breakdown or problem. Now the operator can frequently undertake his own recovery without resorting to calling in specialists. Cameras in the ATC and machining envelope enable viewing from the e-Tower screen and these images can also be transmitted via an electronic link to a Mazak Technical Service Center, where specialists can communicate with the machine operator to diagnose problems.

A third (mobile) camera is supplied with the e-Tower which can be manipulated by the operator for face-to-face communication or to show problem areas to a third party at a remote site -- such as one of Mazak's helpful regional Tech. Centers.

Every alarm switch on the machine issues a verbal and written warning with corrective actions also displayed.

Finally, the interactive features of the e-Tower enable the operator to type in personal data relating to specific components or machining operations so that he or a colleague working on the same machine can optimize future repeat machining operations.

The e-Tower is standard equipment on Mazak's new Integrex multi-function "e" machines, including the e-410H, e-650H and e-1060V.

Mazak is a world leader in machine tool technology. From advanced multi-tasking machine tools, vertical and horizontal machining centers and turning centers to fully automated Palletech Manufacturing Cells and PC based CNC controllers, Mazak stresses its engineering developments to provide our customers tangible value-added benefits and the most productive machine tools available. Application assistance available from ten regional Mazak Tech Centers. For more information, contact the Mazak Corporation at (859) 342-1700 or visit the Mazak website at www.mazak.com.


More from HVAC