Communication, Power, and Data Cables are photoluminescent.
Press Release Summary: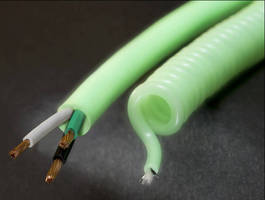 ElectriGlow(TM) cables, power cords, and retractiles withstand abrasion, crush, oils, chemicals, and temperatures from -60 to +105°C. UL-qualified products are available as electrical PVC power cord, non-UL TPU retractile cord, and abrasion-, oil- and chemical-resistant non-UL TPU/TPE for control, communication, data, and power. Able to glow for more than 22 hr, cables have inherent safety attributes that can reduce tripping and other hazards.
---
Original Press Release:

Northwire introduces ElectriGlow(TM) Photoluminescent Glow-In-The-Dark Cables, Power Cords and Retractiles



The industry's first industrial photoluminescent cable

OSCEOLA, Wis.-Northwire Technical Cable, an innovative solutions provider in the marketing, design and manufacture of technical and retractile cables, has introduced ElectriGlow Photoluminescent Glow-In-The-Dark Cables, Power Cords and Retractiles. ElectriGlow is the first industrial photoluminescent glow cable and is ideal for power, industrial networking, control, data, communication, architectural lighting and electric hybrid vehicle charging, and other applications. Guaranteed to perform in harsh environments, custom ElectriGlow Cables can be designed to ship in five days with no minimum order length or quantity requirements. ElectriGlow Cable will glow for more than 22 hours.

"ElectriGlow has inherent safety attributes and can reduce tripping and other hazards. It is unlimited in its potential uses-from industrial safety, RV parks, marina and boating to decorative lighting in a trendy night club," says Mike Conger, president of Northwire. "Whatever the use, unique ElectriGlow provides high performance, a bright, long-lasting glow and unparalleled durability."

ElectriGlow Photoluminescent Glow-In-The-Dark Cables, Power Cords and Retractiles are engineered to withstand abrasion, crush, oils, chemicals and extreme temperatures from -60°C to 105°C, depending on the material and design configurations.

ElectriGlow is available as electrical PVC power cord, non-UL TPU retractile cord and abrasion-, oil- and chemical-resistant non-UL TPU/TPE for control, communication, data and power. The PVC cord qualifies on all UL 62 tests, flame FT1 VW1, horizontal and AWM1061. The PVC cord also passes the UL 62 cold bend test at -20°C. The TPU/TPE material passes UL 62 at -60°C.

For information about Northwire's ElectriGlow Cable or to place an order, contact 1.800.468.1516 or +1 715.294.2121 or visit www.northwire.com/glow. Northwire's CAGE Code is 7V821.

Northwire offers free design and prototyping services to encourage customers to explore innovative solutions. Specialized staff members help customers navigate complex national and international standards, agency compliance, environmental regulations and electrical, ergonomic and aesthetic requirements.

Northwire, a woman-owned company, is ISO 9000:2008 certified and is engaged in professional company-wide certifications by Six Sigma®, Lean, Project Management and American Society of Quality. The company's quality control laboratory is a certified testing facility for CSA under ISO 17025. This laboratory subjects the company's cable products to tests that surpass real-world conditions, including the extremes of bending, flexing, flame, impact, crush and temperature. Northwire also maintains various UL, CSA, IEEE and MSHA approvals and works closely with suppliers to offer RoHS-compliant materials.

Northwire, Inc., headquartered in Osceola, Wis., is an industry leader in the marketing, design and manufacture of technical and retractile cables for diverse applications in industrial, energy, life sciences, government, machine vision, lighting, underwater and more. Northwire has manufacturing facilities in Wisconsin and New Mexico, USA; with a sales office and distribution center in The Netherlands. Northwire is a member of the NDIA (National Defense Industrial Association), NCMA (National Contract Management Association), Fieldbus Foundation, ODVA (Open DeviceNet Vendor Association), PTO (Profibus Trade Organization) and MCAA (Measurement Control and Automation Association), eMerge Alliance, AWEA (American Wind Energy Association), RIA (Robotics Industries Association), AIA (Automated Imaging Association), EMVA (European Machine Vision Association), CMES (Chinese Mechanical Engineering Society) and WAI (Wire Association International), among others.

Northwire, Inc.
110 Prospect Way
Osceola, WI 54020
USA
Tel.: +1 715-294-2121
Toll free: 1-800-468-1516
e-mail: cableinfo@northwire.com
www.northwire.com/glow

More from Construction Equipment and Supplies