Communication Modules suit self-healing ring applications.
Press Release Summary: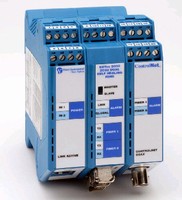 Utilizing Downstream Multicasting technology, EOTec 2C31 and 2C32 are single and dual self-healing ring modules that provide multiple communication paths between various elements of control system. Downstream Multicasting transmits incoming message in multiple directions and insures that, while directing message toward all nodes in ring, it is never retransmitted back to point of origin. Housed in DIN-rail enclosures, fiber optic modules include local and remote diagnostic tools.
---
Original Press Release:

ControlNet Fiber Optic Communication Modules Are Designed For Self-Healing Ring And Dual Self-Healing Ring Applications



An updated family of Fiber Optic Communication Modules for ControlNet self-healing ring and dual self-healing ring applications is being introduced by Weed Instrument at Automation Fair 2007.

Designated the EOTec 2C31 (single self-healing ring) and 2C32 (dual self-healing ring), the communication modules provide multiple communication paths between the various elements of the control system and utilize advanced Downstream Multicasting technology. In the event of a failure on one communication path, communications are still maintained along a secondary path or, in the case of a dual ring, tertiary paths. Downstream Multicasting transmits an incoming message in multiple directions and insures that while directing the message toward all nodes in the ring it is never retransmitted back to the point of origin. This communication method employs a "Master" or ring control module which will direct traffic and guard against duplicate message delivery. Process downtime due to an accidental break of one of the fiber cables is therefore eliminated.

Powerful local and remote diagnostic tools are incorporated into both the 2C31 and 2C32 to enhance reliability and support preventative maintenance. These address power input quality, optical fiber fault, location of optical fiber break and link status. Data on the optical fiber lines is constantly monitored. If a fiber fails to transfer light or is broken an alarm is instantly activated.

These new communication modules support the highest number of nodes and deliver up to 60% more optical power than competing models, resulting in the ability to have longer transmission distances between nodes.

Requiring only 50% of the space needed by the previous models, the 2C31 and 2C32 are housed in compact DIN-rail enclosures, significantly reducing the required installation space.

Weed Instrument is a leading supplier of fiber optic industrial networking modems. In addition to ControlNet, the company offers products for DeviceNet, Industrial Ethernet, Profibus, DH-485, DH+, Remote I/O, RS-232/485, Modbus Plus and an extensive range of Analog and Digital Data Links, Multiplexers and Contact Closures.

For more information about the EOTec 2C31 and 2C32, contact Mike Wightman, Weed Instrument Company, Inc., 707 Jeffrey Way, Round Rock, Texas 78664. Phone 512.434.2850; Fax 512.434.2851. Email: fiberop@weedinstrument.com Web: www.weedinstrument.com

More from Packaging Products & Equipment