Communication Module adds Profibus connection to PLC.
Press Release Summary: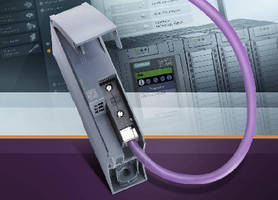 Adding 9-pin Sub-D socket connector to versions of S7-1500 controller which have no integrated interface, Simatic CM 1542-5 allows communication with lower-level Profibus devices in bandwidths from 9.6 Kbps to 12 Mbps. Module can also be used to implement separate Profibus lines to control field devices via Profibus segments. Assuming all communication tasks in process, Simatic CM 1542-5 minimizes load on controller's CPU. All functions are configured via TIA Portal v12.
---
Original Press Release:

Siemens Adds Profibus Module to New Simatic Controller



The Simatic CM 1542-5 communication module from the Siemens Industry Automation Division is expanding its Simatic S7-1500 controller to include a Profibus connection. The module adds a 9-pin Sub-D socket connector to versions of the S7-1500 which have no integrated interface, allowing communication with lower-level Profibus devices in bandwidths from 9.6 kBit/s to 12 MBit/s. The module can also be used to implement separate Profibus lines, in other words, to control a number of different field devices via a number of Profibus segments. The Simatic CM 1542-5 assumes all communication tasks in the process, thus reducing the load on the controller's CPU. All functions are configured via the TIA Portal Version 12. Diagnostics information can be viewed on the front display of the connected Simatic S7-1500 via the TIA Portal or via the controller's webserver.



The new communication module can be used as a time master or time slave for synchronizing the time of day within the plant. When used as a time master, the module forwards the time specified by the controller to the connected peripheral devices via Profibus. When used as a time slave, it receives time-of-day frames from the network and forwards them as the valid time for the S7-1500 station.



Simatic CM 1542-5 is suitable for S7 communication as well as for conventional Profibus communication. This makes it possible to establish communication between the S7-1500 controller and other devices, for example those from the Simatic-S7-300/400 range.



More information is available on the Internet at: http://www.siemens.com/simatic-net



The Siemens Industry Sector (Erlangen, Germany) is the world's leading supplier of innovative and environmentally friendly products and solutions for industrial customers. With end-to-end automation technology and industrial software, solid vertical-market expertise, and technology-based services, the Sector enhances its customers' productivity, efficiency, and flexibility. With a global workforce of more than 100,000 employees, the Industry Sector comprises the Divisions Industry Automation, Drive Technologies and Customer Services as well as the Business Unit Metals Technologies. For more information, visit http://www.siemens.com/industry



The Siemens Industry Automation Division (Nuremberg, Germany) supports the entire value chain of its industrial customers – from product design to production and services – with an unmatched combination of automation technology, industrial control technology, and industrial software. With its software solutions, the Division can shorten the time-to-market of new products by up to 50 percent. Industry Automation comprises five Business Units: Industrial Automation Systems, Control components and Systems Engineering, Sensors and Communications, Siemens PLM Software, and Water Technologies. For more information, visit http://www.siemens.com/industryautomation



More from Optics & Photonics