Communication Analyzer offers 105 MS/sec sampling rate.
Press Release Summary: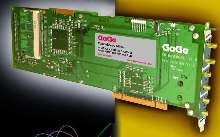 CompuScope 14105 digitizer for PCI platform provides 2 simultaneous input channels, 14 bits of vertical resolution, and 250+ MHz of bandwidth. Single input range of 0.5 VRMS is coupled to transformer with 50 Ohm impedance, and typical accuracy is ±0.5% FS input. Programming-free operation is made possible by GageScope® oscilloscope software. Product has time-stamping, external triggering and external clocking, and trigger and clock output signals.
---
Original Press Release:

Communication Analyzer with 14 bits, 105 MS/s on 2 Synchronous Channels


Montreal, Canada (February 27, 2004) - Gage Applied Technologies, Inc., is thrilled to announce the release of a brand-new 14-bit, 105 MegaSamples per second digitizer for the PCI platform. The new CompuScope 14105 comes from a long tradition of top performance signal capture cards and constitutes an important evolutionary step in the PC-based digitizer technology developed since the late 80's by Gage.

"Unlike other general-purpose digitizers on the market, including many we manufacture, the CompuScope 14105 was designed primarily to solve an important communications test application. But unlike other specialized digitizer modules, this card remains flexible enough to go way beyond I&Q and power spectrum testing," indicated Andrew Dawson, Ph.D., Worldwide Sales Manager at Gage Applied Technologies. "This card has a few tricks up its sleeves, like a large FPGA that we will soon open to our customers for programming, and a new memory architecture and technology that allows us to reduce the cost. Our engineers worked closely with world-class communications customers and really came through," concluded Dr. Dawson.

The card, nicknamed Comm Analyzer, provides two simultaneous input channels, 14 bits of vertical resolution, 105 MS/s simultaneous sampling rate, over 250 MHz of bandwidth, time-stamping, external triggering and external clocking, as well as trigger and clock output signals for maximum ease of synchronization with other system modules. The single input range of 0.5 V RMS is coupled to a transformer with 50 Ohms of impedance, satisfying a key wireless communications test requirement. Accuracy is typically ± 0.5% of full-scale input with excellent linearity. The card comes standard with 16 MegaSamples of memory making 8 MegaSamples available to each of the two channels. The CS14105 can also be equipped with up to 1 GigaSample of total on-board memory and can use 32-bit, 66 MHz PCI standards to transfer data at 200 MB/s.

Completely programming-free operation of the CompuScope 14105 is possible with the world-renowned GageScope® oscilloscope software, allowing the user to easily setup the digitizer and acquire, view, archive and analyze signals. Gage also offers Software Development Kits (SDKs) for C/C++, MATLAB®, and of course the very popular LabVIEW® environment, with support for Windows NT, 2000 and XP.

Availability and Pricing

The CompuScope 14105 is available immediately with a projected lead-time of 6 weeks ARO for small quantity orders. List price for the CompuScope 14105 starts at US$5,995 for the base memory model (8 MegaSamples per channel, 16 MegaSamples total on-board). Volume-based discounts are available to qualified OEMs.

For Further Information

For further information, contact Sacha Veillette, Marketing Manager, at 1-514-633-7007, extension 3114, or via e-mail at sacha.veillette@gage-applied.com.

About Gage Applied Technologies, Inc.

Gage Applied Technologies, Inc., a member of the KineticSystems group of companies, is a worldwide industry leader in high-performance signal capture. Gage, KineticSystems, Preston Scientific and Cyber Systems, all members of the KineticSystems growing family, serve a wide-range of industries by providing instruments and modules for PC-based test and measurement systems and synthetic instrumentation built on the PCI, PXI, VXI, CAMAC and proprietary platforms.

Gage's product offering includes a family of multi-MHz digitizers and scope cards, analog signal generator cards, digital input and digital output cards, as well as the programming-free GageScope® oscilloscope software and a vast array of powerful application development kits.

Gage's family of signal capture products consists of the CompuScope line of 8-bit, 12-bit, 14-bit and 16-bit digitizers and scope cards for the PCI and CompactPCI/PXI buses. With sampling rates up to 5 GS/s and very deep on-board acquisition memory of up to 2 GigaBytes, Gage's product line offers the top performance on the market in the 3 key dimensions of sampling speed, resolution, and memory.

The company's customer focus translates into products that are used across diverse industries such as Communications, Computers, Aerospace, Fundamental Research, and Education. Applications served are Manufacturing Test, Radar (SIGINT), Ultrasonics, Lasers/LIDAR, Spectroscopy, and Automated Test Equipment.

Gage is located minutes away from Montreal's international airport in the suburb of Lachine, Quebec, Canada. Through the KineticSystems group of companies Gage benefits from a state-of-the-art board assembly facility, located in Lockport (Illinois), that enables the delivery of top quality products with a very fast turnaround.

For more information on Gage Applied Technologies, Inc. or any of its products, contact the company at 2000, 32nd Avenue, Lachine, QC, H8T 3H7, Canada.

Telephone 1-800-567-GAGE

MATLAB is a registered trademark of Mathworks Corporation. LabVIEW is a registered trademark of National Instruments. Windows is a registered trademark of Microsoft Corporation.

Fax 1-800-780-8411

Web sites at www.gage-applied.com and www.kscorp.com

More from Electronic Components & Devices