Common Mode Chokes target automotive networks.
Press Release Summary: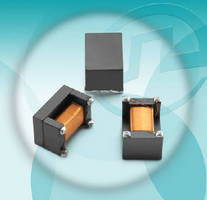 Providing EMC/EMI protection for automotive electronics, HOT ROD AE20xx I-Bar Chokes meet Broadcom® Corporation's BroadR-Reach® Automotive Ethernet technology for mode conversion up to 400 MHz. Devices are used for noise suppression on Ethernet-based networks transmitting data, video, and voice over single unshielded twisted pair within vehicle. Measuring 4.5 x 3.2 x 2.8 mm, chokes are suited for birds-eye camera views, self-parking, blind spot alerts, or collision avoidance applications.
---
Original Press Release:

Pulse Electronics Introduces HOT ROD Family of I-Bar Chokes for Automotive Networks



Optimized for use with Broadcom® BroadR-Reach® automotive Ethernet technology



San Diego, Calif. - Pulse Electronics Corporation (NYSE: PULS), a leading provider of electronic components, today introduced the HOT ROD product family of I-Bar chokes for automotive networks, a new concept to provide EMC/EMI protection for automotive electronics. The new line of I-Bar HOT ROD chokes are optimized to meet Broadcom Corporation's BroadR-Reach Automotive Ethernet technology for mode conversion up to 400 MHz. The first part in the series, the AE2000, meets the need for the current generation of 100 Mbps BroadR-Reach automotive Ethernet transceivers.



"The automotive industry has enthusiastically embraced our BroadR-Reach automotive Ethernet technology as the standard in automotive connectivity," said Nimesh Doshi, Associate Product Line Director, Automotive, Broadcom Corporation. "The addition of Pulse's AE2000 product to the Automotive Ethernet ecosystem will provide more options to system implementers and help further proliferate Ethernet into a broad range of vehicles."



The HOT ROD AE20xx family of small-sized (4.5x3.2x2.8mm) SMD components has been approved by the Automotive Electronics Council (AEC) to meet the reliability criteria of AEC-Q200. The AE20xx family of devices is smaller and lighter in weight than Pulse Electronics' current HM6902NL chokes, used in digital camera networks supporting BroadR-Reach technology. AEC-Q200 is a stringent series of stress and accelerated life testing required by the automotive industry for high reliability components. The AE20xx products are especially suited for use in a confined space. They have an operating temperature range of -40 to +125°C. A high temperature capability is needed for use particularly on the outside of a vehicle, such as for a camera unit in the fenders, bumpers, and on wing mirrors.



AE20xx chokes are used for noise suppression on Ethernet-based networks transmitting data, video, and voice over a single unshielded twisted pair within a vehicle. These networks can be used for driver-assist applications and equipment combining camera, LiDAR, and sensor feeds like surround or birds-eye camera views, self-parking, blind spot alerts, or collision avoidance as well as infotainment systems combining satellite navigation, phone, audio, and video (DAB, CD, DVD, Internet, and DigitalTV).



"Automotive Ethernet adoption is moving at a rapid pace," said Robert Frost, Senior Marketing FAE, Europe, Pulse Electronics GmbH. "For many years Pulse has worked closely with the leading semiconductor companies, such as Broadcom, to develop innovative solutions for the automotive market. Our latest HOT ROD AE2000 device meets the needs for 100 Mbps BroadR-Reach Automotive Ethernet better than any other small design on the market."



Broadcom's BroadR-Reach automotive Ethernet technology delivers high-performance bandwidth of 100 Mbps over an unshielded single twisted pair cable. By eliminating the need for expensive, cumbersome shielded cabling, automotive manufacturers can significantly reduce connectivity costs and cabling weight. Visit www.broadcom.com/connectedcar to learn more.



Early adopters of the BroadR-Reach automotive Ethernet standard used larger toroidal solutions, such as Pulse Electronics' HM6902NL, and at 5.0x5.0x5.0mm it was the smallest size available. The AE2000 is an extension of this work and builds on Pulse's renowned experience in the design of coil-wound topologies and its ongoing development efforts with silicon vendors such as Broadcom. Pulse will continue to develop new components for future faster generations of Ethernet-based application-specific technology. Such products will address the emerging standards of AVB (Audio Video Bridging) over one pair Ethernet and power over single twisted pair Ethernet.



Pulse Electronics manufactures the AE2000 using a fully automated production process that ensures consistency, high reliability, and scalability for volume production. The chokes are available in tape-and-reel format.



Availability:

The HOT ROD family of I-Bar chokes for automotive networks is now available for samples from Pulse Electronics. Information and datasheets on the HOT ROD AE2000 and AE2015 products are available at http://productfinder.pulseeng.com/products/datasheets/AE2000.pdf or visit the Pulse Electronics website at http://www.pulseelectronics.com.



About Pulse Electronics: 

Pulse Electronics is the electronic components partner that helps customers build the next great product by providing the needed technical solutions. Pulse Electronics has a long operating history of innovation in magnetics, antennas, and connectors, as well as the ability to ramp quickly into high-quality, high-volume production. The Company serves the wireless and wireline communications, power management, military/aerospace, and automotive industries. Pulse Electronics is a participating member of the IEEE, SFF, OIF, HDBaseT Alliance, CommNexus, NFC Forum, MoCA, and IWPC. Visit the Pulse Electronics website at www.pulseelectronics.com.



Copyright ©2014 Pulse Electronics Corporation. All rights reserved. All brand names and trademarks are properties of their respective holders.



Pulse Electronics

Farid Hamidy

Worldwide FAE Manager, USA

Pulse Electronics

Phone: +1 858-674-8307

Email: fhamidy@pulseelectronics.com



Robert Frost

Senior Marketing FAE, Europe

Pulse Electronics GmbH

Phone: +44 (0)7768 336597

Email: rfrost@pulseelectronics.com

More from Chemicals & Gases