Commercial Dimmers eliminate multi-gang box concerns.
Press Release Summary: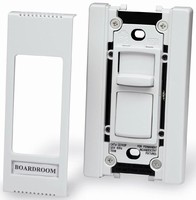 Titan(TM) Commercial Dimmers come with all parts needed to build screwless multi-gang faceplate in field. In addition to customizable wall plate system and clear window slots for labels, products also offer voltage adjustment feature that lets building managers reduce at full voltage without compromising slider's full dimming range. All 700 and 1,100 W incandescent and magnetic low-voltage versions work with standard single-pole and 3-way wiring and switches.
---
Original Press Release:

P&S Titan Commercial Dimmers Eliminate Multi-Gang Box Headaches



SYRACUSE, N.Y. (April 24, 2007) - Pass & Seymour/Legrand (P&S), a leading manufacturer of electrical wiring devices and home systems, announces the first of its new commercial lighting controls. Titan(TM) Commercial Dimmers offer attractive, energy-efficient lighting control with a customizable multi-gang wall plate system and a high-end voltage adjustment feature - perfect for food service, retail and medical facilities, schools, institutions, boardrooms, places of worship and the hospitality industry.

End-users, electrical contractors and specifiers can benefit from a host of aesthetic and energy-saving features, including three exceptional advancements unlike any other commercial lighting product line. The first is P&S's revolutionary new cover plate system - each Titan Dimmer comes with all the parts needed to build a screwless multi-gang faceplate in the field. Never again will a contractor want to install a cluster of separate boxes on a wall. Titan's customizable wall plate system eliminates the need to invest in costly multi-gang plates and deal with long lead times.

"Everyone gets an attractive and finished installation that doesn't have to hide in an inconvenient back room or utility closet," said Mike Piraino, product manager for P&S. "The Titan system is flexible, so users can have any desired configuration within the same multi-gang box."

The Titan Incandescent Dimmers also include an exclusive high-end voltage adjustment feature, allowing a building manager to reduce the "at full" voltage without compromising the slider's full dimming range. This saves energy and money, and extends the lamp life - while maintaining a light level that still gives users a perception of full brightness.

Finally, Titan offers better identification - including an easy-to-use labeling system with each cover plate. Simply print the labels using standard templates available on any computer. Then cut the labels from the paper and insert them into the clear window slots on each cover plate. The labels are protected from fingerprints, dirt and moisture to maintain a professional look - no more unsightly freehand marker labels.

In addition to these innovations each new Dimmer includes all of the standard P&S features, like surge and static protection, power failure memory, slide to "off" and preset models, an air-gap switch, improved heat management for better maximum load ratings, an enclosed slider to prevent dust and dirt contamination, and a matte finish to resist fingerprints. They work with standard single-pole and 3-way wiring and switches.

The Commercial Dimmers are available today in 700- and 1,100-watt incandescent and magnetic low-voltage versions. To complete the room's look, an adaptor to install other decorator opening devices under the Titan face plate system is also available. Colors include white, light almond, ivory, black, brown and grey. Fan Speed Controls, fluorescent versions and 1,600- and 2,000-watt models will be available soon.

For more information about the Titan Commercial Dimmers, contact your P&S representative or visit www.passandseymour.com.

Pass & Seymour/Legrand is a leading provider of electrical wiring devices, accessories and home systems in North America. For more information, call 1-800-223-4185 or visit www.passandseymour.com.

About Legrand
Legrand (www.legrandelectric.com) is the world specialist in products and systems for electrical installations and information networks, offering solutions for use in residential, commercial and industrial buildings. Operating in over 60 countries with sales of $3.7 billion, it employs about 33,000 people and its catalogues list more than 130,000 products. At Legrand, innovation drives growth: with nearly 5% of sales invested in R&D every year, the group brings out a steady stream of new, high added-value products.

More from Agricultural & Farming Products