Commercial Boilers maintain max combustion efficiency.
Press Release Summary: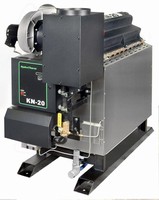 Rated at 99% efficient, gas-fired KN-6 and KN-20 utilize Tru-Flow(TM) Technology, which automatically adjusts fuel to match changes in air-flow for conditions such as temperature, altitude, and air-inlet or flue-outlet blockage. While KN-6 offers 600,000 Btu capacity and 4:1 turndown ration, KN-20 offers 2 million Btu capacity and 5:1 turndown ratio. Latter can accept 10:1 variation in water flow and has no return water temperature limitations.
---
Original Press Release:

Hydrotherm Expands KN Boiler Line with Two New Models



NEW KN-6 & KN-20 COMMERCIAL BOILERS OFFER 99% EFFICIENCY AND THINK FOR THEMSELVES FOR MAXIMUM SAFETY

WESTFIELD, Mass., November 28 - At a time when energy costs are at all-time highs and conservation is the corporate mantra, HydroTherm has expanded its popular "KN" series with the addition of two highly efficient, high-technology commercial gas-fired boilers - the KN-6 and the KN-20.

The new boilers are both up to 99% efficient and feature HydroTherm's proprietary Tru-Flow(tm) Technology, a self-adaptive design that automatically adjusts the fuel to match changes in air-flow for all conditions including temperature, altitude and air-inlet or flue-outlet blockage. In short, they "think for themselves" to maintain maximum combustion efficiency and boiler safety.

"Without a doubt, the KN-6 and KN-20 boilers represent the state-of-the-art in commercial boiler design," said George Carney, national sales manager for HydroTherm. "The self-adaptive design not only provides a high degree of safety for the building owner, but also reduces sensitivity to flue installation and allows these boilers to be used without any degradation in performance in areas where there are air-inlet pressure issues."

The two new KN boilers offer the same robust performance features and installation benefits as the original 1 million Btu KN-10 which HydroTherm introduced last year. The KN-6 offers 600,000 Btu capacity and a 4:1 turndown ration, which is ideal for light commercial or institutional applications. Additionally, both are environmentally sensitive with low emissions of CO, NOx and sound.

The new 2 million Btu capacity KN-20 boiler has a 5:1 turndown ratio, the maximum allowed by ANSI. The KN-20's ability to accept a 10:1 variation in water flow, no return water temperature limitations, tolerance to high temperature rise, very low standby losses and a patent pending low loss ignition, makes this boiler an excellent choice for modern efficient heating systems.

Both units provide advanced controls with self-diagnostics, the long-life reliability of cast iron with condensing capability, graphite port connectors for long life and dependability, and a corrosion-resistant, one-piece ceramic burner with aluminum enclosure. "Plug and play" design, user-friendly controls, and a footprint of less than 29-inches wide (27-inches for the KN-6), make these boilers ideal for schools, hospitals, office buildings and apartments.

HydroTherm, a division of Mestek, manufactures a full line of cast-iron commercial and residential boilers and heating systems. For additional information on the new KN-6 or KN-20, contact: HydroTherm, 260 North Elm Street, Westfield, Mass., 01085. Tel.: 413/564-5515 or visit us on the web at www.hydrothermkn.com.

More from Fasteners & Hardware