Come Alive Organics LLC Launches Soviia Agave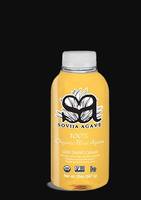 After many years supplying organic blue weber agave syrup to private label customers, the newly branded Come Alive Organics LLC announces the national launch of its premium brand Soviia Agave.
Already in over 5,000 retail stores, and with access to the largest agave fields in the world, Soviia's organic agave is a healthier alternative to other sweeteners and syrups. Soviia's food scientists have demonstrated the healthier option its agave provides with a lower glycemic index and less calories than table sugar. It is also vegan, non-gmo, gluten free, and FDA GRAS. As a versatile ingredient, Soviia Agave is both suitable for any sweetening use and provides health advantages over other sweeteners.
Soviia Agave supplies organic premium weber agave to retailers, food service, and for industrial applications. From our 7 gram stick packs to 250 gallon totes, we have all the supply for your highest demand needs. Besides premium agave, Soviia Agave also produces delicious proprietary flavors that provide a healthier sweet experience: they include Pumpkin Spice Agave Syrup, Chocolate Agave Syrup, Coconut Agave Syrup, Vanilla Agave Syrup, Maple Agave Syrup, Peppermint Agave Syrup, Mango Agave Syrup, Lemon Ginger Agave Syrup, Pomegranate Agave Syrup, and more custom flavors.
Feel great about Soviia Agave not just because of the taste, but because our clients are supporting our "One Sweet Cause", which donates 5% of net income to orphanages globally. www.Soviia.com 888-279-9080
Related