Come Alive Organics LLC Details Further Investment in Filling Lines for Stick Pack and Sachets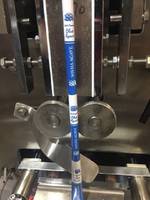 Customers looking to launch new liquid products in stick packs and sachets no longer need to take the risk of producing/filling long runs that may not sell. Come Alive Organics (CAO) has further invested in two additional small-run filling assets to fulfill the needs of customers looking for smaller quantities.
Previously, the minimum for most fillers was up to 200k pieces per order.  At CAO, the minimum run, based on the larger size fillers was 100k stick packs or sachets.  After listening to the market needs of both large and small customers, CAO now has the machinery to fill as little at 10k pieces per run.
Come Alive Organics' president Richard Elinghausen states, "We kept turning away customers that didn't fit our production model, which has been larger, high speed production.  But now we have the best of both worlds so that customers can launch a product with small volume, and once it takes off, we already have the machines to scale up."
Small packaging and micro dosing is the hottest trend. From food service to retailers, smaller sizes of single-use are essential during the shift to covid-friendly packaging for all liquids.  Now more than ever food companies are looking to test new products into their markets but don't want the risk of producing a large amount of stick packs that doesn't sell.  The CAO solution allows customers to fill stick packs or sachets as small as half an ounce all the way up to 5 oz.  The fear of sitting on large amounts of inventory is removed by produced small quantities so customers can best assess their options before completely financially committing to the market.
On average, Come Alive Organics can take a new stick pack/sachet out to the market in 3-5 weeks from concept to market available.  All customers want to differentiate and these new lines provide vast flexibility for new sizes in small production. 
The same quality processes used on large runs are utilized for 10k piece runs so that every stick pack/sachet filled has quality redundancy.
Come Alive Organics can fill your liquid or powder applications that require stick packs or sachets with custom film or stock film.
For more information including an E-book on the sweetener market, please visit www.ComeAliveOrganicsLLC.com or contact us at info@soviia.com or 714-955-5207.
More from Materials