Gas and Chemical Sensors / Detectors
Combustible Gas Detector requires no routine calibration.
Press Release Summary: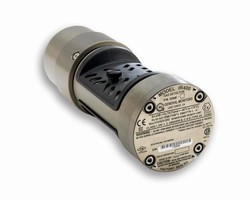 With ability to monitor combustible gases in lower explosive limit, IR400 combustible gas detector provides 4-20 mA analog signal proportional to 0-100% LEL concentration. Through 2-way digital communication protocols, users can access device configuration, warning/alarm, fault and maintenance records as well as monitor gas concentration, check status, and perform real-time diagnostics. Suitable for wide range of hazardous industry processes and plant applications, device uses 4.8 W of power.
---
Original Press Release:

Next Generation IR Combustible Gas Detector Offers Superior Protection with Low Operating Costs



Ideal for Compressor Stations, Gas Processing & Storage Facilities, Drilling & Production Platforms, Chemical Plants, Refineries, and Wastewater Treatment

LAKE FOREST, CA-October 23, 2008-- With its advanced point infrared combustible gas sensing element, the new IR400 Combustible Gas Detector from General Monitors delivers reliable protection against explosive hydrocarbon gases with a low power design that installs in minutes and features heated optics to eliminate condensation and includes a dirty optics indicator for fail safe operation.

The Model IR400 Infrared (IR) Point Gas Detector continuously monitors combustible gases in the lower explosive limit (LEL) range and provides a 4 to 20 mA analog signal proportional to the 0 to 100% LEL concentration. The detector also monitors other conditions such as supply voltage and optical path integrity.

The IR400 is designed to assist with operational efficiency and system problem-detection capability. The new detector, for example, uses only 4.8 W of power and with its advanced diagnostics helps to prevent unplanned plant shutdowns. Additionally, the detector requires no routine calibration, a feature that reduces demand for field technician time.

The IR400's reliable gas detection principle of operation is based on measuring the absorption of infrared radiation passing through a volume of gas using a dual beam, single detector method. The IR detector measures the intensity of two specific wavelengths, one at an absorption wavelength and another outside of the absorption wavelength. The gas concentration is determined by comparing these two intensities.

Configurations with analog output, Modbus and HART are available. Through the two-way digital communication protocols, users have access to device configuration, warning and alarm, fault and maintenance records. They can also monitor gas concentration, check status and perform real time diagnostics.

The versatile IR400 is suitable for a wide range of hazardous industry processes and plant applications: LNG/LPG processing and storage, electric power generation plants, oil/gas production platforms, petrochemical refining, pipeline compressor stations, aerospace facilities, and wastewater treatment. The IR400 comes with the following industry approvals: FM, CSA, ATEX, CE Marking and IECEx. It is also certified as SIL 2 capable.

About General Monitors
Founded in 1961, General Monitors is a leading-edge manufacturer of combustible gas, toxic gas and flame detection monitoring products of the highest quality. The company is third-party certified to ISO 9001:2000 requirements. Corporate headquarters in Lake Forest, California comprise a modern engineering design center, R&D, manufacturing, sales and service complex. A facility in Galway, Ireland supports the EU with engineering design, R&D and manufacturing. Sales and service offices are maintained in Houston, Texas, Singapore, the United Arab Emirates, and the United Kingdom.

Company Contact:
Angela Sauceda
MARCOM Mgr
Tel: 949-581-4464
Email: etech@generalmonitors.com

Data Sheet: www.generalmonitors.com/downloads/literature/combustible/IR400_DATA.PDF

Company Address:
General Monitors
26776 Simpatica Circle
Lake Forest, CA 92630
Tel: 1-800-330-9161
Tel: 949-581-4464
Fax: 949-581-1151
Web: www.generalmonitors.com

More from Material Processing