Combined PLC/Color HMI offers all-in-one control solution.
Press Release Summary: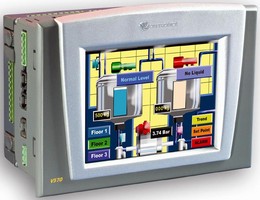 Offering built-in recipe capability and on-board I/O options, Vision570(TM) enables machine manufacturers and system integrators to add 5.7 in. QVGA, 256-color TFT touchscreen and full PLC functionality to their systems with one product. Controller can scan 1 K of typ application in 0.9 µsec and use 20 auto-tuned PID loops to control temperature, level, and pressure. It offers 2 MB application, 1 MB font, and 6 MB image memories and can display data, color trend graphs, and alarms.
---
Original Press Release:

A Vision of Color: Vision570(TM) PLC + Color HMI



Unitronics, Airport City, March 20th, 2007- A color touchscreen, full PLC functionality, on-board I/O options, and built-in recipe capability are just a few of the benefits of the new Vision570(TM), an all-in-one compact controller currently being released to market by Unitronics.

The convenience is clear. Machine manufacturers and system integrators can add, with a single product, both a brilliant color touchscreen and a PLC to their systems-with no extra labor, wiring or cost.

The Vision570(TM) offers a rugged 5.7" QVGA, 256-color TFT touchscreen. Over one thousand displays and hundreds of highly detailed color images can be used in a single application. The memory holds 2MB of application memory, plus 1MB for fonts and 6MB for images; future releases will include SD card memory storage support. The controller is fast, scanning 1K of a typical application in 0.9µsec, making it a natural for 'rapid response' applications such as packaging machines.

Industrial control processes can now rely on a single device: the Vision570(TM) can use 20 auto-tuned PID loops to control temperature, level, and pressure, while the color touchscreen displays data, color trend graphs, and red, attention-grabbing alarm screens.

Communication options include TCP/IP Ethernet, cellular, and industrial protocols such as MODBUS and CANopen. In addition, the Vision570(TM) can be 'taught' to communicate via almost any device-based protocol.

Like other members of the Vision series, Vision570(TM) supports digital, high-speed, and analog I/Os, as well as direct temperature measurement inputs. VisiLogic free software provides one user-friendly environment for hardware configuration, modular Ladder application development, and HMI design, including a rich color library of industrial images.

The Vision570(TM) reduces overall system costs by cutting programming time, minimizing hardware requirements, saving cabinet space-and, above all-exempting the user from setting up Panel-PLC communication.

For more information, please visit www.unitronics.com.

About Unitronics
Unitronics (1989) (R"G) Ltd. is an Israeli company with international presence that designs, develops, produces and markets Programmable Logic Controllers (PLCs), the computer 'brains' that enable control of automated production lines, storage systems and machines. Unitronics' products include controllers designed to enable bi-directional man-machine interaction through simple user-friendly interface (including integrated graphic operator interface), as well as products embedded with Internet and Intranet capabilities, intended for remote diagnostics and communications on the Internet and Ethernet/LAN levels, and GSM enabled PLC's designed to allow remote control and m-commerce solutions. Unitronics' international distribution network composes of in excess of 50 distributors spanning Europe, America, Israel and the Far East, as well as in excess of 60 sales representatives in most of the states of the USA, whose efforts are coordinated and supported through Unitronics' wholly owned US subsidiary, Unitronics, Inc..

Unitronics shares are traded on the Tel Aviv stock exchange, and since September 1999 in Brussels, on the EuroNext Stock Exchange.

More from Software