Combination IR Window/Ultrasound Port meet global demand.
Press Release Summary: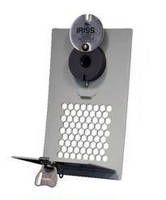 Leveraging multi-technology approach, CAP-4-US permanent electrical safety device (PESD) enables electricians to find failure points in critical electrical assets, such as transformers and switchgear, before failure can occur. Solution is available with transparent or opaque polymer, both of which comply with all mandatory impact, load, and flammability requirements. This industrial-grade IR window meets OSHA NFPA 70E requirements for arc flash safety.
---
Original Press Release:

IRISS Reveals CAP-4-US Combination Infrared Window/Ultrasound Port to Meet Global Demand



Unites the Benefits of Infrared and Ultrasound in One Easy-to-Install Window



Bradenton, FL – IRISS, a leader in the permanent electrical safety devices (PESD's) market, announces the addition of a combination infrared (IR) window ultrasound port product, the CAP-4-US protected by an Unconditional Lifetime Warranty.  As their newest innovation, the CAP-4-US enables companies to efficiently detect electrical faults before running into failure.



"As a mission-critical resource, electrical assets must be continually monitored to prevent failure which can cost companies thousands to millions of dollars in loss due to damaged equipment from arc flash or electrical fire, production downtime, personnel injury, and so on," said CEO, Martin Robinson.  "IRISS R&D recognized the industry need for a PESD that leverages a multi-technology approach for electricians to find failure points in critical electrical assets such as transformers and switchgear," continues Robinson.



Many electrical failures are caused by gradual degradation of equipment such as insulators, switches, and connectors.  In many cases, the electricity flow is partially interrupted by the breakdown of the circuit.  Early on, these electrical faults can produce noise that is detectable in the 40 KHz frequency range of ultrasonic data collectors, and may also produce heat, depending on the type and severity of fault.  The IRISS CAP-4-US makes detecting these electrical faults safer and more efficient.



The IRISS CAP-4-US is available with either transparent or opaque polymer both complying with all mandatory impact, load and flammability requirements.  Several major OEMs throughout the United States and Canada are among the first to adopt the IRISS CAP-4-US.



IRISS IR windows allow for safer, more efficient electrical inspections. IRISS is the manufacturer of the world's first and only, industrial-grade IR windows capable of meeting OSHA's NFPA 70E requirements for arc flash safety. All of our products are proudly manufactured and assembled in our global headquarters located in Bradenton, FL.



About IRISS, Inc.

IRISS, leader in permanent electrical safety devices (PESD's) such as industrial-grade infrared (IR) windows and advanced on-line monitoring systems, give customers an efficient way to safely inspect energized electrical equipment without exposure to the risk of a hazardous arc flash, accidents or injuries. Our PESD solutions are designed to fit the growing needs of electrical reliability. As an electrical industry trailblazer, top organizations in power generation, processing and manufacturing, government, data center, and health care industry have relied on IRISS for guidance on optimizing their electrical system. Through our Safety and Maintenance Academy of Reliability Technologies, aka SMART Academy, IRISS offers many unique lab-simulated training and certification classes that provide the practical experience and knowledge necessary to complete energized electrical maintenance inspections safely and efficiently. For more information, visit www.iriss.com.



For more information, please contact:

Candy Mizer

941-907-9128

c.mizer@iriss.com





More from Packaging Products & Equipment