Combination Fasteners suit one-time assembly applications.
Press Release Summary: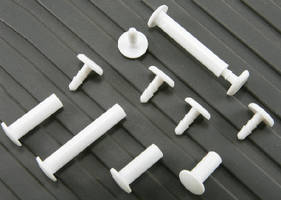 Featuring white polycarbonate pin and white polyethylene post, available separately, Post and Pin Combination Fasteners are suited for binding applications such as displays, swatch book fabrics, leather, and scrapbook making. Posts are available in ½, 5/8, ¾, 1, and 1¼ in. lengths, and one size pin fits all length posts.
---
Original Press Release:

Micro Plastics Is Pleased to Announce 'Post and Pin Combination' as a New Product Line



The pin is molded in white Polycarbonate material and the different length posts are molded in white polyethylene. The combination fasteners are intended for a one time assembly. The posts and pins are sold separately.

These post and pin fasteners provide a cost effective way for binding applications such as displays, swatch book fabrics, leather and scrap booking. One size pin fits all lengths of posts. Posts are available in 1/2, 5/8, 3/4, 1 and 1 1/4 lengths. Additional lengths available between 1/2 and 1 1/4 long in reasonable quantities.

See our full line catalog #38 for a complete line of nylon fasteners that are available. FREE samples are available upon request.

See details at secure.microplastics.com/detail.aspx?fam=7&part=348&sec=%e7%bc%ba%e3%8b%b8%e4%a2%bf%ec%a5%9d%ee%b4%87%e4%95%95%eb%8f%92%e9%88%81

For a FREE copy of our NEW full line catalog #38

Contact: Micro Plastics' Customer Service Department

P.O. Box 149, Hwy 178 North,

Flippin, Arkansas 72634

Technical Contact: Bruce Sanders, Sales Manager

Telephone: (870) 453-2261 or (870) 453-8861.

Fax: (870) 453-8676

E-mail: mpsales@microplastics.com

Visit our Website: www.microplastics.com

Related