Combihammer provides constant drilling speed.
Press Release Summary: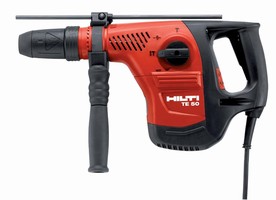 Hilti TE 50 Combihammer features 1,050 W motor and hammering mechanism for drilling up to 1 in. dia holes for rebar dowels or anchor bolts in concrete, stone, and masonry. Ergonomically designed with D-grip for fatigue, it includes electronics to maintain constant drilling speed despite power source fluctuations. Tool includes Theft Protection System which locks it after 20 min if stolen, and cannot be restarted without Activation Key.
---
Original Press Release:

Compact, Efficient and Incredibly Powerful--New Hilti TE 50 Combihammer



TULSA, Okla. - February 14, 2007 - With big drilling power in a compact package, the new Hilti TE 50 Combihammer combines a strong motor with an ergonomic design to help provide maximum performance for demanding drilling applications.

Ideal for drilling holes for rebar dowels or anchor bolts in concrete, stone and masonry, or moderate chiseling on concrete and masonry, the TE 50 has a powerful 1050-watt motor and hammering mechanism for superior performance when drilling up to one inch diameter holes.

With a lightweight and compact design, the TE 50 has excellent balance and handling to reduce user fatigue and help increase productivity. The tool provides maximum operating comfort thanks to an innovative, balanced ergonomic design with D-grip.

Equipped with constant motor electronics, the TE 50 provides a constant drilling speed - despite power source fluctuations - for full performance under virtually any condition. Equipped with durable components, the TE 50 is built for high reliability and a long life. An efficient cooling system and robust hammering mechanism help reduce unexpected downtime on the jobsite.

The TE 50 comes equipped with the Hilti TPS Theft Protection System, a simple, easy-to-use system that puts tool owners and users in control. Because the system helps put an end to missing tools, it helps reduce insurance and replacement costs and helps keep the tools in your hands to help increase productivity. The TPS system consists of a Company Card, Activation Key and electronic module inside the tool. For everyday tool use, connect the tool to the power supply, hold the Activation Key to the tool and go to work. If the tool is stolen, it will lock after 20 minutes and cannot be restarted without the Activation Key.

Covered under Hilti Lifetime Service, the Hilti TE 50 Combihammer will be serviced quickly and reliably, if needed, with no additional cost for two years. During the lifetime repair cost limit, which begins after the two-year no cost period, the tool will have a maximum repair cost of no greater than 30 percent of the tool's then-current list price. Once the tool is repaired, it receives an additional six months of no cost service. The lifetime manufacturer's warranty covers the tool against manufacturer defects for the life of the tool.*

For more information on the Hilti TE 50 Combihammer or other Hilti drilling or chiseling tools, please contact Hilti Customer Service. From the U.S., call Hilti, Inc., at 1-800-879-8000 or visit us.hilti.com; from Canada, call Hilti (Canada) Corporation at 1-800-363-4458 or visit www.ca.hilti.com.

*Some limitations apply. Contact Hilti for details.

About Hilti, Inc.
Hilti is a world-leading manufacturer and supplier of quality, innovative and specialized tools and fastening systems for the professional user. With more than 800 highly trained Hilti account managers and engineers throughout North America and an additional 1,300 Hilti employees nationwide, Hilti expertise covers the areas of powder actuated fastening, drilling and demolition, diamond coring and cutting, measuring, firestopping, screw fastening, adhesive and mechanical anchoring, and strut and hanger systems.

More from Mechanical Components and Assemblies