Comau to Exhibit at the IndustryWeek Manufacturing and Technology Conference and to Participate in the NED Awards with its Racer3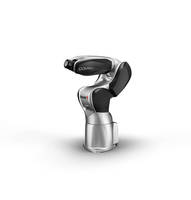 Southfield, MI –



Comau LLC will be an exhibitor at this year's IndustryWeek Manufacturing Technology Conference Expo (May 3-5) , which will be held in Rosemont, Illinois in May. The event will highlight the latest in manufacturing trends, as well as introduce the most advanced innovations in industrial equipment, software and devices. New Equipment Digest, an IndustryWeek sister publication, will also be announcing the leading companies in the 2016 NED Innovation Awards right on the show floor. 



At the show, Comau will showcase its new Racer3 robot, one of the innovative products nominated for the NED Award, a competition intended to celebrate the 80th anniversary of the magazine.



Racer3 was chosen from among 1,500 new products launched in 2015 and will compete, among others, with other robots, machine tools and with technologies, like Tesla Powerwall, coming from other industries.



Racer3 was chosen thanks to its design and been considered a symbol of the correct path that automation and robotics are undertaking.



Racer3 is a powerful, high-speed, 6-axis articulated robot featuring a payload of 3kg and a reach of just 630 mm that combines field-proven technology and enhanced dexterity with a keen focus on safety, design and product aesthetics. With a compact design, aluminum construction, exceptional stability and a user-friendly control interface, Racer3 is a highly efficient manipulation and assembly solution that can adapt to any environment. This means that companies in virtually any industry can easily automate, with extreme accuracy, precision and intelligence, even in the most delicate manufacturing processes.



Join Comau in Rosemont from May 3-5 at Booth 504.



About Comau

Comau, company part of FCA Group, is the worldwide leader in manufacturing flexible, automatic systems and integrating products, processes and services that increase efficiency while lowering overall costs. Headquartered in Turin, Italy, with an international network that spans 17 countries that employ more than 12,600 employees, Comau uses the latest technology and processes to deliver advanced turnkey systems that consistently exceed the expectations of its customers. Comau specializes in body joining & assembly, powertrain machining & assembly, robotics and maintenance, as well as advanced production systems and environmental services for a wide range of industrial sectors. The continuous development of its products and services enables Comau to lead the automation industry in meeting the unique requirements of each customer, and through all phases of the project - from design, implementation and installation, to production start-up and maintenance services.

www.comau.com



Press Office Contact Details

Heather Button

Heather.button@comau.com

Work 248-368-6965

Press Office Contacts – Headquarter:

Giuseppe Costabile – Corporate Communication Manager

giuseppe.costabile@comau.com

+39 011 0049670

+39 338 7130885



About New Equipment Digest

For the past 80 years, New Equipment Digest has been the leading source for the latest manufacturing equipment news and trends. As part of Penton's Manufacturing & Supply Chain group, NED prides iteself on publishing the latest and greatest industrial innovations first to help bring manufacturers the tools and technologies they need to do their jobs.

To learn more about NED, visit www.newequipment.com.







More from Architectural & Civil Engineering Products