COM Express Starter Kit helps develop SFF applications.
Press Release Summary: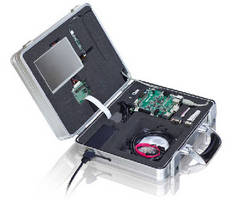 Suitable for all COM Express Type 10-compliant mini Computer-on-Modules, Kontron COMe Starterkit Ref. Carrier T10 facilitates evaluation and development of small form factor and mobile applications, even for extended temperature range of -40 to +85°C. Kit includes industrial-grade Carrier Board Kontron COM Express Reference Carrier-i Type10, 7 in. WVGA touchscreen with backlight cable, 12 V/5 A power supply, and cables to connect LVDS display, touch sub system, CAN bus, and SATA drives.
---
Original Press Release:

New Starterkit for Ultra Small and Rugged Applications with COM Express Mini Type 10 Computer-on-Modules



Complete Starterkit accelerates development of small form factor applications including those for use at -40 °C to +85 °C industrial temperature range

Eching, Germany, - Kontron today announced a new COM Express Starterkit with the industrial grade (E2) Carrier Board Kontron COM Express Reference Carrier-i Type10 for ultra small and rugged applications based on COM Express mini Computer-on-Modules with pin-out Type 10. The Kontron COMe Starterkit Ref. Carrier T10 is specifically configured to make evaluation and development of small form factor and mobile applications easy, even for the extended temperature range (-40 °C to +85 °C). For an individual Starterkit, only the COMe-mini module and the suitable cooling solution have to be selected to immediately start the development, while all other components are preinstalled. In addition to the mini-sized (120 mm x 120 mm) COM Express Reference Carrier-i Type 10, the Starterkit includes a 7" WVGA touch panel, cables and PSU. The kit is compatible with all COM Express mini Type 10 modules and it unleashes its full potential when used with industrial grade COMs such as the Kontron COMe-mTT10 to develop by-design rugged applications.

The Starterkit minimizes development time and cost by featuring the enhanced interface range of the COM Express Type 10 pin-out including new digital video interfaces (DDI) as well as a CAN Bus and COM ports on an ultra compact footprint. Other highlights include two Mini PCI Express extension slots with USB and SIM card support, which greatly simplify the development of mobile connected applications with GSM, UMTS and future LTE. With support for two independent displays, the new Starterkit is even ideal for designing innovative HMI and multimedia appliances. The carrier board is certified to operate in the extended temperature range of -40°C to +85 °C, which enables OEMs to evaluate extremely robust and easy to integrate applications for market segments such as automation, transportation, medical and defense. For those not wishing to order the corresponding COM Express mini COM separately, Kontron offers individually compiled Starterkits including the Computer-on-Module and cooling solution together with a pre-installed operating system. They provide a true out-of-the-box experience: All that is required is to simply connect the power, switch on the assembled configuration, and get started.

The Kontron COMe Starterkit Ref. Carrier T10 in detail

The new Kontron COMe Starterkit Ref. Carrier T10 is suitable for all COM Express Type 10-compliant mini Computer-on-Modules. In addition to the small form factor reference and evaluation carrier board Kontron COM Express Reference Carrier-i Type 10, the kit contains a seven inch WVGA (800 x 480 pixel) touch screen with backlight cable, a 12 V / 5A power supply, and the full range of cables to connect the LVDS display, touch sub system, CAN bus and SATA drives. A touch screen controller and a COM Express mounting kit are also included.

The Kontron COM Express Starterkit Type 10 with the COM Express Reference Carrier-i Type10 is shipped in a sturdy aluminium case and is available now.

For more information on the new Kontron COMe Starterkit Ref. Carrier T10, please visit: http://www.kontron.com/products/computeronmodules/com+express/com+express+mini/starterkits+and+evaluation+boards/come+starterkit+ref+carrier+t10.html

For more information on the Kontron COM Express Reference Carrier-i Type 10, please visit: http://www.kontron.com/products/computeronmodules/com+express/com+express+mini/starterkits+and+evaluation+boards/com+express+reference+carrieri+type+10.html

For more information on suitable COM Express mini Computer-on-Modules please visit:
http://www.kontron.com/products/computeronmodules/com+express/com+express+mini/

About Kontron

Kontron is a global leader in embedded computing technology. With more than 40% of its employees in Research and Development, Kontron creates many of the standards that drive the world's embedded computing platforms. Kontron's product longevity, local engineering and support, and value-added services, helps create a sustainable and viable embedded solution for OEMs and system integrators. Kontron works closely with its customers on their embedded application-ready platforms and custom solutions, enabling them to focus on their core competencies. The result is an accelerated time-to-market, reduced total-cost-of-ownership and an improved overall application with leading-edge, highly-reliable embedded technology.

Kontron is listed on the German TecDAX stock exchange under the symbol "KBC". For more information, please visit: http://www.kontron.com/