COM Express Module employs 6th Gen Intel Core i7/i5/i3 CPUs.
Press Release Summary: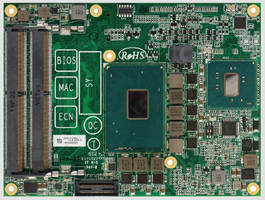 Supporting Intel® 6th Generation Core™ i7/i5/i3 SoC processors, MB-73430 offers Type 6 pin-outs, 3 DDI channels and one LVDS channel. This basic-size COM Express module, which also incorporates Intel Gen9 HD Graphics with HEVC (H.265) support up to 32 GB dual-channel DDR4 memory, supports up to 3 independent displays as well as 8 PCIex1 Gen 3. Features enhance productivity in such areas as factory automation and counter- and cart-based medical applications.
---
Original Press Release:

WIN Enterprises Announces COM Express Module with 6th Generation Intel® Core(TM) i7/i5/i3 Processors



NORTH ANDOVER, MA – WIN Enterprises, Inc., a leading designer and manufacturer of embedded controllers and network platforms for OEMs, announces the MB-73430 a basic-size COM Express module. MB-73430 features Type 6 pin-outs. The unit is unique because it supports a wide range of the new Intel® 6th Generation Core™ i7/i5/i3 SoC processors, considered by Intel one of their best-ever processors for delivering high performance, with low power usage and superior graphics support.



FEATURES

6th Generation Intel® Core™ i7/i5/i3 processors

Three DDI channels, one LVDS

Supports up to 3 independent displays

Intel® Gen9 HD Graphics with HEVC (H.265) support up to 32GByte dual channel DDR4 memory

Supports 8 PCIex1 Gen 3

Enables a wide range of voltage inputs



This 6th generation Intel processor family (formerly Skylake) is packed with advanced features that boost productivity in areas like 3D gaming, factory automation, and counter and cart-based medical applications. The high performance of the new processors supports fluid video streaming to open up new possibilities in training, visualization, and other data intense applications.



COM Express modules are good for all kind of applications, but especially for those systems designed for future upgrading. The challenge with upgradable modules is finding ever more powerful processors to support the OEMs' feature-rich solutions. Today, for instance, that often means a need for superior graphics. This is a requirement in the broad swath of environments that COM Express modules may serve: medical, factory automation, gaming, etc.



The MB-73434 is designed to deliver enhanced HD graphics. In addition to featuring Intel 6th Generation Core™ i7/i5/13 processors, the MB-73430 module has three DDI channels and one LVDS. It supports up to 3 independent displays and supports Intel® Gen9 HD Graphics with HEVC (H.265). The unit enhances high-density streaming applications and optimized 4K video conferencing with HEVC (8-bit), VP8, VP9, and VDENC encoding, decoding, and transcoding.



The MB-73434 module provides up to 32GByte dual channel DDR4 memory; and enables a wide range of voltage inputs for environments from mobile, embedded, counter top, and desktop.



About WIN Enterprises, Inc.

WIN Enterprises is a product development company that designs and manufactures customized x86-based embedded systems, networking platforms, controllers, and motherboards for the embedded computing market. Founded in 1991, WIN Enterprises has developed several reference designs for world-leading microprocessor companies, plus set-top boxes, rack-mount appliances, and other customized devices for eOEMs and developers. WIN Enterprises facilities in the United States and Taiwan enable cost-effective design, manufacturing, and fulfillment for corporations around the world. WIN Enterprises is an Affiliate Member of the Intel® IoT Solutions Alliance, a global ecosystem of 200+ member companies that provide the performance, connectivity, manageability, and security developers need to create smart, connected systems.



WIN is an ISO 9001 certified company.



Press contact

John Hill

Marketing Dir.

johnh@win-ent.com

978-688-2000 x14

Related