COM Express® Computer-on-Module operates from -40 to +85°C.
Press Release Summary: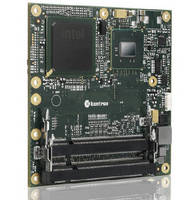 Consuming 17 W, microETXexpress®-PV-XT is equipped with 1.80 GHz Intel® Atom(TM) D525 dual core processor and supports up to 4 GB DDR3 system memory. Module provides LVDS and VGA simultaneous graphics support for maximum resolutions of 2,048 x 1,536. Unit includes 5 configurable PCI Express lanes in addition to PCI, I2C, SPI, and LPC bus. Via COM Express® Type 2 connector, module provides 1x Gigabit Ethernet, 8x USB 2.0, 3x SATA II, and optional 1x PATA.
---
Original Press Release:

Kontron microETXexpress®-PV-XT: COM Express® Compact Module



Kontron microETXexpress®-PV-XT: COM Express® compact module with dual-core Atom(TM) for the industrial temperature range

Trimmed for efficiency with a compact footprint and low power consumption for harsh environments

Poway, California, - Kontron announced the expansion of its COM Express® compact form factor portfolio of Computer-on-Modules that follow the pin-out type 2 definition to now include the new Kontron microETXexpress®-PV-XT that boasts a rugged design rated for the extended temperature range of -40 to +85 °C. With the further enhancement of up to 4 GByte DDR3 system memory and high-performance dual-core Intel® Atom(TM) processor D525@ 1.80GHz, the Kontron microETXexpress®-PV-XT is a best-fit drop-in replacement for designs previously based on Intel® Pentium® M processors. OEMs benefit from a seamless migration path to energy efficient upgrades and extended usage models, increasing the long-term availability and investment security of their applications.

With its high performance per watt ratio and powerful dual-core processor, the Kontron COM Express® compact Computer-on-Module microETXexpress®-PV-XT enables OEMs to implement multicore processing features such as asymmetric multiprocessing for dedicated 2-in-1 systems for hardware consolidation into cost-effective low power devices. Furthermore, its industrial temperature rating and low overall power consumption of only 17 Watts simplifies fanless designs, reducing R&D efforts for rugged and highly available applications in areas such as outdoor digital signage, medical appliances, POS/POI terminals as well as tools used in industrial automation, transportation and military applications.

The feature set in detail

The new Kontron COM Express® compact Computer-on-Module microETXexpress®-PV-XT utilizes the pin-out type 2 definition making the most of the features supported in the second generation 1.8 GHz Intel® Atom(TM) dual-core processor D525 with integrated memory controller and graphics core as well as the Intel® 82801HM I/O controller. It now supports up to 4 GB DDR3 system memory bringing twice the RAM resources for memory intensive applications based on Intel® Atom(TM) processors. Furthermore, it provides LVDS and VGA simultaneous graphics support for maximum resolutions of 2048x1536 via VGA for WXGA (1366 x 768) via18-bit single channel LVDS. With five flexibly configurable PCI Express lanes, as well as PCI, I2C, SPI and LPC bus, the modules are a key COTS solution for interface-intensive ultra low power designs. Furthermore, via the COM Express® Type 2 connector, the new modules include 1x Gigabit Ethernet, 8x USB 2.0, 3x SATA II as well as optional 1x PATA. A Trusted Platform Module (TPM) and High-Definition Audio (HDA) are also provided. The wide range of supply voltages (8.5 V DC - 18 V DC) and MARS Smart Battery further enhances the capabilities of the mobile devices that are designed into.

The Kontron COM Express® compact Computer-on-Module microETXexpress®-PV-XT supports Windows® XP, XPe, and Windows® 7, as well as Linux and VxWorks. Early field test samples will be available in NA and APAC tnow with mass production beginning in Q1 2012.

For more information on the Kontron COM Express® compact Computer-on-Module microETXexpress®-PV-XT please visit us.kontron.com/products/computeronmodules/com+express/com+express+compact/microetxexpresspvxt.html

For more information on Kontron COM Express® compact modules, please visit: www.kontron.com/microETXexpress

About Kontron

Kontron is a global leader in embedded computing technology. With more than 30% of its employees in Research and Development, Kontron creates many of the standards that drive the world's embedded computing platforms. Kontron's product longevity, local engineering and support, and value-added services, helps create a sustainable and viable embedded solution for OEMs and system integrators. Kontron works closely with its customers on their embedded application-ready platforms and custom solutions, enabling them to focus on their core competencies. The result is an accelerated time-to-market, reduced total-cost-of-ownership and an improved overall application with leading-edge, highly-reliable embedded technology.

Kontron is listed on the German TecDAX stock exchange under the symbol "KBC". For more information, please visit: www.kontron.com/

Contact Details

EMEA

Norbert Hauser

Kontron

Tel: +49 (8341) 803-0

norbert.hauser@kontron.com

Americas

Richard Pugnier

Kontron

Tel:+1 (858) 623-3006

richard.pugnier@us.kontron.com

Related