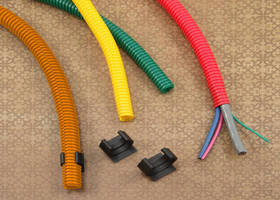 Micro Plastics' has added COLOR to their Polyethylene and Nylon lines of wire routing split loom. To satisfy customer demand, they now offer all sizes of their Nylon Split Loom in orange, to accommodate applications where identification is critical to safety.  In addition, their Polyethylene split loom is now available in Red, Yellow and Green.  Perfect for organizing cables and managing cords into color-coded bundles.



Conceal unsightly wires, whether computer cables under your workstation or wiring under your automobile hood.  Split loom can add a sleek, finished appearance and protect from abrasion, puncture, vibration, and corrosive fluids.  This highly flexible, kink-resistant corrugated tube has an easy opening seam down the side for simple and quick insertion and removal of wires.  Colored Split loom comes in six standard size diameters, 1/4, 3/8, 1/2, 5/8, 3/4, and 1".



Extruded from durable materials, resistant to temperature and corrosion conditions.  Accommodates any manufacturing application, to provide the best in wire and harness protection.



More from Architectural & Civil Engineering Products