Colored Quartz Aggregate Flooring supports traffic in 2 days.
Press Release Summary: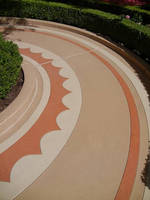 Available in 16 standard aggregate colors and blended patterns as well as custom blends, Color-Rok Flooring can be broadcasted into 100% solids epoxy or methyl methacrylate coating. Pure silica quartz aggregate is UV stable and chemical resistant and can be formulated with antimicrobial additive. Able to be applied to smooth or textured finish, durable and seamless floor is unaffected by acids, detergent solutions, animal fats, vegetable oil, gasoline, petroleum oil, blood, and urine.
---
Original Press Release:

"Color-Rok Flooring: Metalcrete Industries Launches Color Quartz Flooring Aggregate"



Metalcrete Industries' new product, Color-Rok Flooring, is a colored quartz aggregate used in all types of flooring applications. Metalcrete Industries offers customers 16 standard aggregate colors and blended patterns, as well as the opportunity for customers to create custom blends. When broadcasted in a 100% solids epoxy system, Color-Rok Flooring provides a decorative and durable seamless floor.



Body of Press Release:

Metalcrete Industries is proud to announce a new product to their line of commercial and industrial flooring systems, Color-Rok Flooring. Timing of the product launch was strategically coordinated with the upcoming World of Concrete trade show in Las Vegas, Nevada (February 5 - February 8). Metalcrete will be showcasing Color-Rok Flooring at their World of Concrete booth #S10901, in the South Hall of the Las Vegas Convention Center. Color-Rok Flooring is a colored quartz aggregate designed to produce a seamless floor for any application. Color-Rok Flooring can be applied to a smooth or textured finish, depending on the customer's specific need. Proprietary manufacturing processes ensure a floor with a long life of brilliant color. The Color-Rok Flooring aggregate can be broadcasted into a 100% solids epoxy or methyl methacrylate coating, providing customers a beautiful and resilient floor indoors or outdoors. The pure silica quartz aggregate is ultraviolet stable, chemical resistant, and can be formulated with an antimicrobial additive to help defend against bacteria, mold, and mildew. Color-Rok Flooring is the number one choice for your next floor!



Some features of Color-Rok Flooring:

- Ideal for laboratories, food processing facilities, educational institutions, hospitals, locker rooms and pool decks, and showrooms.

- Color-Rok Flooring is unaffected by most acids, detergent solutions, animal fats and vegetable oil, gasoline and petroleum oil, and blood and urine.

- 100% solids epoxy allows for total compliance with VOC regulations.

- Easy-to-use installation method permits rapid return to service and exposure to traffic within two days.

- With a dense surface and available antimicrobial additive, Color-Rok Flooring will resist mildew and bacteria growth and allow for easy cleaning and maintenance.

- Can be used with MMA for exterior applications.

- Easy to clean up with soap and water.



Link to Color-Rok Flooring: Color-Rok Flooring



About Metalcrete Industries:

Metalcrete Industries has been producing high quality materials for the plant maintenance and construction industry since 1908. We offer a wide variety of specialty products for the concrete industry, and our goal is to provide a full-service product line to solve many of the problems and challenges you face on a daily basis. Metalcrete Industries focuses primarily on the following areas:

- Heavy-Duty Industrial and Commercial Flooring

- High-Strength, Non-Shrink Anchoring and Grouting

- Seamless Color Quartz Epoxy Flooring

- Shotcrete Applications

- Dry Shake Floor Hardeners

- High-Performance Epoxy Coatings

- Concrete Sealers, Penetrants, and Curing Agents

- General Concrete Repair Materials



Brad Stankie

Metalcrete Industries

Phone: (440) 526-5600

Fax: (440) 526-5601

brad@metalcreteindustries.com



www.metalcreteindustries.com

More from Sensors, Monitors & Transducers