Colored Foam Panels provide acoustical control.
Press Release Summary: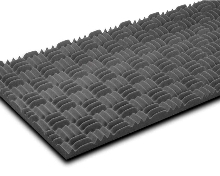 SONEXclassic(TM) Panels, in colortec(TM), are made from Class 1 fire-rated willtec® foam impregnated with dye. Dye penetrates entire thickness of each panel, making it possible to keep clean, consistent look even when pieces are cut to fit around conduit or other obstructions. Panels have modified anechoic wedge design that absorbs disruptive sounds, and they withstand excessive moisture and humidity without warping, swelling, or sagging.
---
Original Press Release:

SONEXclassic(TM) colortec(TM) Panels


MINNEAPOLIS, Minn. - illbruck Architectural Products introduces new light grey SONEXclassic Panels, in colortec, an exclusive process in which illbruck's Class 1 fire-rated willtec® foam is impregnated with dye. A deeper shade, charcoal grey, is already available and has been popular for a variety of interior spaces that require quality sound control with an enhanced appearance including offices, restaurants, broadcast/audio studios and manufacturing facilities.

Dye penetrates the entire thickness of each panel, making it possible to keep a clean, consistent look even when pieces must be cut to fit around conduit or other obstructions. Discreetly placed on walls and ceilings, SONEXclassic Panels will easily absorb disruptive sounds like noise from machines as well as the highs and lows of laughter and conversation.

Panels have a modified anechoic wedge design, which provides impressive sound control at an affordable price. The geometric shape of the panel's surface pattern makes for optimum deflection of sound waves, making them an ideal choice for theaters and recording and broadcast studios. (Flat panels without the convoluted surface pattern can be custom ordered.)

These panels offer excellent acoustical control across all frequencies with Noise Reduction Coefficients (NRC's) of 0.75. Because they are made from willtec foam, SONEXclassic Panels are a safe and affordable option. willtec foam is Class 1 fire-rated according to ASTM E 84 for flame spread and smoke density. willtec natural and colortec meet the corner burn test UL 1715.

The two-inch-thick colortec panels measure 24"x48" and are easily mounted to any wall or ceiling using illbruck's AcouSTIC(TM) water-based adhesive. Designed with durability in mind, the panels can withstand excessive moisture and humidity without warping, swelling, or sagging.

illbruck manufactures a broad range of attractive acoustical ceiling tiles, wall panels, baffles, and other noise control products for commercial and industrial applications, including: SQUARELINE® Metal Ceiling Tiles, HARMONI(TM) and WHITELINE(TM) Ceiling Tiles, CONTOUR® Wall and Ceiling Tiles, FABRITEC(TM) Wall Panels, SONEX® Wall Panels and Baffles, and PROSPEC® Barriers and Composites.

illbruck
3800 Washington Avenue North
Minneapolis, MN 55412
800-662-0032
sales@illbruck-sonex.com
www.illbruck-sonex.com

Holly Jo Anderson
Veritas Marketing, LLC
11800 Wayzata Boulevard
Minnetonka, MN 55305
952-738-8177; fax: 952-738-8191
www.veritasmarketing.com

More from Optics & Photonics