Colorado's Historic Byron Rogers Federal Building Modernization Nears Completion Features Wausau's Blast-hazard Mitigating Windows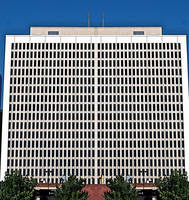 Wausau, Wis. -- Renovation of Denver's Byron G. Rogers Federal Office Building is on schedule for completion in 2014. The security, seismic and energy modernization upgrades on the 494,156-square-foot federal office building will continue its commitment to LEED® certification and ENERGY STAR® labeling. Window replacement at the adjacent U.S. Courthouse was finished in 2012. Renovation of this historic courthouse building maintains its legacy of Modern Formalist architecture. The building will be eligible for consideration by the National Register of Historic Places in 2015.



Preserving the appearance while improving the performance and daylighitng, Wausau Window and Wall Systems provided more than 1,600 blast hazard-mitigating BHM Series windows plus high-performance SuperWall™ system and custom ClearStory™ interior light shelves.



Owned by the U.S. General Services Administration (GSA) Rocky Mountain Region 8, the federal office building facility houses 11 federal agencies and is the cornerstone of the Denver Federal District. This is part of the project seeking to revitalize the eastern edge of the downtown central business district at 20th and Stout Streets and to earn LEED Silver certification through the U.S. Green Building Council. Following an earlier renovation project, the adjoining courthouse building received LEED Existing Buildings (EB) Pilot Gold certification in 2006.



In 2009, funding was provided through the American Recovery and Reinvestment Act (ARRA) for additional modernization of the federal office building to meet current codes, seismic and progressive collapse criteria, and GSA facility requirements for acoustic privacy, security and sustainability. The project's scope includes replacing all the existing exterior windows on both the federal office and the courthouse buildings with high-performance units manufactured by Wausau and installed by Harmon, Inc.



Other members of the building project team are: Mortenson Construction as design-builder, HOK as the design architect, Bennett Wagner Grody Architects as architect of record, Martin/Martin, Inc. as the structural engineer and blast consultant, and Rocky Mountain Institute as high-performance green building consultant.



According to the GSA, the primary goals of this $154 million design-build project are "architectural preservation and demonstration of energy-efficient retrofit capabilities. All together, the Byron Rogers Federal Office Building systems are expected to lower the building energy consumption by up to 65% over its previous rate. The systems are expected to save taxpayers more than $250,000 per year in energy costs, while providing superior comfort and a modern workplace for various federal agencies."



The design-build team worked with GSA to find ways to generate a design model targeting a more aggressive goal of 27-30 kBtu per square foot per year. Using continuous whole-building energy modeling that compared various combinations of efficiency measures, predicted hourly energy use and annual energy costs, led the team to a realistic evaluation of various alternatives. This targeted reduction is expected to provide an annual energy savings of 55-65% per year over previous use.



Rocky Mountain Institute added, "Byron Rogers is an outstanding demonstration project since it is on track to become one of the most energy-efficient office buildings in the U.S., more efficient than the National Renewable Energy Laboratory's (NREL) new-build Research Support Facility." It also noted that the windows were selected "to maximize the amount of visible light and insulative properties and to minimize solar heat gain. The exterior window must also meet federal blast requirements, and maintain its original gray color to meet historic preservation requirements."



Bryon Rogers and NREL's Research Support Facility each incorporated whole building energy modeling into the design process to identify and optimize energy efficiency measures. Both buildings also rely on Wausau's high-performance window and curtainwall systems. Where NREL was new construction, Bryon Rogers is historic renovation, which necessitated that the exterior window frames and existing precast remain intact. Working from inside the occupied buildings, Harmon carefully replaced the windows with double- and triple-glazed units. On the lower floors of the courthouse, Harmon also field-glazed a custom curtainwall system from Wausau.



Harmon's senior project manager, Steve Sauerbreit, says, "The project was a success due to the collaborative efforts by the entire design and construction team."



Mortenson and Harmon enjoy a long-term relationship and have collaborated on dozens of other projects, several of which use Wausau's windows and curtainwall systems. Wausau also has contributed to other HOK-designed projects including the AIA award-winning Alfred A. Arraj U.S. District Courthouse Annex in Denver.



Byron Rogers Federal Office BuildingByron G. Rogers Federal Building and U.S. Courthouse originally was designed by James Sudler Associates and Fisher Davis. The courthouse building was constructed in 1964 by Autur Yenneri Company. It is considered by the local architectural community and Modern design enthusiasts to be an iconic representation of Formalist design.



A report for the GSA Historic Buildings Program described the structure as a "carefully composed set of related components - a dynamic, geometric set of forms that consist of the low five-story courthouse building pavilion and the monolithic 18-story slab of the office tower, linked by two perpendicular exterior canopies and anchored by a landscaped plaza."



The Federal Building's tall office tower sits on an angular footprint. Upper stories of the primary elevations exhibit an alternating rhythm of beige pre-cast concrete panels and projecting windows. The street level is clad in white marble panels.



"The office building's upper floors' exterior units have a very specific historical profile that was to be maintained, so those existing units were re-glazed in the field by Harmon with a new high-performance piece of insulated glass to preserve the original look and improve thermal performance. The 1,600 new interior 'add-on' windows are 9-foot-tall, laminated IGUs, provided by Wausau to add blast protection and thermal improvement," explains Wausau's Todd Sackmann.



Sackmann continues, "The lower office building's units did not have the same historical profile to maintain, so they were completely replaced with windows that combine all of the desired performance features - multiple high-performance coatings, double insulated units, laminated glass and fixed operation." These windows reach more than 13 feet high and are fabricated with Viracon's low-e glass to manage Colorado's challenging climate.



Evoking the footprint and windows of the office tower, the courthouse building's Champa Street elevation is accented at the top and bottom in white marble bands. Its windows are oriented vertically and in pairs, running in tall bands divided by thin strips of marble. The Stout Street elevation features a metal art screen, a common element of Modern Formalism, over large windows. The screen also serves to control direct sunlight on the interior. Wausau's light shelves help carry the natural light more deeply into the building's interior corridors.



In addition to daylighting and energy-efficiency, the Byron Rogers sustainability goals are supported with Wausau's extruded aluminum frames and light shelves contain recycled content averaging 70% or greater. Linetec finished the majority of the aluminum in a VOC-free, dark bronze anodize for easy maintenance and durability.



Byron Rogers Federal Office Building GSA Rocky Mountain Region integrates the concepts of sustainability into its buildings and its business processes. It emphasizes, "Sustainability is an economic, social, and environmental concept. It is intended to be a means of configuring civilization and human activity so that society and its members are able to meet their needs and express their greatest potential in the present, while preserving natural ecosystems for the future."



Benefiting from these practices, federal agencies scheduled to occupy Byron G. Rogers Federal Building and U.S. Courthouse include: the Social Security Administration (SSA), Securities and Exchange Commission (SEC), National Labor Relations Board (NLRB), Department of Justice Executive Office for Immigration Review (EOIR), Department of Health and Human Services (HHS), and the new U.S. Patent and Trademark Office.



Byron G. Rogers Federal Building and Courthouse, 1961 Stout Street, Denver, CO

• Owner: General Services Administration, Rocky Mountain Region 8; Denver; http://www.gsa.gov/portal/content/101723

• Design-builder: Mortenson Construction; Denver office; http://www.mortenson.com  

• Original architects: James Sudler Associates and Fisher Davis

• Current architects - Design architect: HOK Architecture; Denver office; http://www.hok.com/about/locations/denver/  

- Architect of record: Bennett Wagner & Grody Architects; Denver office; http://www.bwgarchitects.com/  

• Mechanical, electrical, plumbing engineer: The RMH Group, Inc.

• Mechanical contractor: RK Mechanical

• Electrical contractor: Berg Electric

* High-performance green building consultant: Rocky Mountain Institute; Snowmass, Colo.; http://www.rmi.org  

• Glazing contractor: Harmon, Inc.; Denver office; http://www.harmoninc.com  

• Glazing systems - manufacturer: Wausau Window and Wall Systems; Wausau, Wis.; http://www.wausauwindow.com  

• Glazing systems - glass assemblies: Viracon, Inc.; Owatonna, Minn.; http://www.viracon.com  

• Glazing systems - finisher: Linetec, Wausau, Wis.; http://www.linetec.com



Nationally recognized for its innovative expertise, Wausau Window and Wall Systems is an industry leader in engineering window and curtainwall systems for commercial and institutional construction applications. For more than 55 years, Wausau has worked closely with architects, building owners and contractors to realize their vision for aesthetic beauty, sustainability and lasting value, while striving to maintain the highest level of customer service, communication and overall satisfaction. Wausau is a part of Apogee Enterprises, Inc., a publicly held, U.S. corporation.



Wausau and its staff are members of the American Architectural Manufacturers Association (AAMA), the American Institute of Architects (AIA), the APPA – Leadership in Educational Facilities, the Construction Specifications Institute (CSI), the Design-Build Institute of America, the Glass Association of North America (GANA), the National Fenestration Ratings Council (NFRC) and the U.S. Green Building Council (USGBC).

More from Communication Systems & Equipment