Colorado Pump House for Extreme Conditions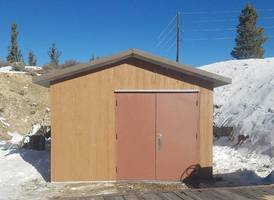 At 10,200 feet, the Two-Mile-High city of Leadville, Colo., is known for being a remote spot for outdoor adventures with 300 days of sunshine and ample snow. While residents and visitors can be found taking advantage of the 120 feet of snow that falls per year, Mountain West Precast, based in Brigham City, Utah, is manufacturing and installing precast concrete buildings to stand up to these extreme elements in hard-to-reach sites. 
In November 2017, Mountain West Precast delivered its first Easi-Set Building since becoming an Easi-Set Buildings licensed producer in early 2017. The 12' x 20' gabled precast concrete building is a pump house that is part of a Leadville pump station overseen by the Environmental Protection Agency with subcontractor Environmental Restoration LLC. The project team was looking for a building that could be transported to an austere location and withstand significant snow loads better than traditional building materials. The customized precast concrete building was engineered to meet a 100 lbs/psf snow load. 
The building was customized with an open floor to accommodate the well pump and block outs in the walls to allow for passage of the pipes. A 12" overhang was added to further protect the base of the building from harsh weather conditions. The building has Barnwood walls with a Cedarwood Brown color and a roof in Autumn Brown.
The entire install took four days, including the eight-hour drive to and from Brigham City. The crew endured a snowy ice-filled site and very cold temperatures. 
"As a former resident of Colorado, I am very familiar with winter conditions in Leadville and knew that an Easi-Set Building was the very best building option for the EPA," says Stephanie Loud, owner of Mountain West Precast. "Our job at Mountain West was to convince Environmental Restoration and the EPA of that fact."
Discover more about Easi-Set Buildings and its network of licensed producers at www.easisetbuildings.com or by calling 800-547-4045.