Color Tubing resists temperature extremes.
Press Release Summary: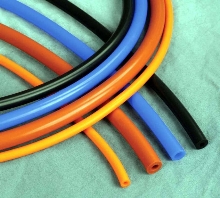 Platinum-cured Color Silicone Tubing, suitable for fluid and air transfer, features solid color for quick line recognition of temperature, contents, departments and work shifts, and processing equipment. Color does not degrade or wash off and can be sterilized/autoclaved. Tubing has operating temperature of -100 to 400°F and resists compression set, chemical attack, ozone, radiation, and moisture. Size ranges from .030-1 in. ID.
---
Original Press Release:

New Color Silicone Tubing from AdvantaPure® Provides Instant Line Identification


Southampton, PA - AdvantaPure is pleased to announce the availability of Color Silicone Tubing for fluid and air transfer. The solid-color tubing offers quick recognition of individual tubing lines while it retains the performance characteristics for which silicone is known. Applications include the transfer and processing of liquids and gases in the pharmaceutical, chemical, food and dairy, beverage, cosmetic, biomedical, and biotechnology industries.

Color Silicone Tubing allows for immediate recognition of multiple lines. Various colors can be used to associate the line with temperature, contents, departments and work shifts, processing equipment, or other user-defined specifics. Colors will not degrade or wash off like ink can. Because the tubing is a solid color and encompasses the entire length of the tube, misidentification is less likely than with color identification that covers only part or one side of a tube, or occurs at one fitting attachment or the other.

Silicone tubing's extreme flexibility, ability to be sterilized/autoclaved, and the fact that it imparts no taste or odor to critical streams are all retained when color is introduced during the manufacturing process. In addition, Color Silicone Tubing resists temperature extremes (-100°F to 400°F), compression set, chemical attack, ozone, radiation, and moisture.

Color Silicone Tubing is a platinum-cured product that is custom produced according to specification. Peroxide-cured tubing is also available. Users can detail the color(s) needed for each application in tubing sizes ranging from .030" to 1" I.D.

Other tubing and hose identification products from AdvantaPure® include the patent-pending Hose Track(TM) hose assembly identification and tracking system, which uses RFID (radio frequency identification) tags; the AdvantaLabel® hose labeling method; color-striped silicone tubing; color tracer braid for reinforced silicone hose; and laser-etched hose collars and metal hang tags.

Note: Colorants may have an effect on regulatory compliance. Testing must be performed if this is a concern.

For additional information on Color Silicone Tubing, or any of the company's other identification options, contact the Sales Team at AdvantaPure, 145 James Way, Southampton, PA 18966; phone 888-755-4370 or 215-526-2151; fax 888-258-4293 or 215-526-2167; e-mail: sales@advantapure.com; product-specific URL: http://www.advantapure.com/color-silicone-tubing.htm

About AdvantaPure® and NewAge® Industries
AdvantaPure, a division of NewAge Industries, specializes in ultra-clean products for the pharmaceutical, biomedical, food, beverage, and cosmetic industries. All products are manufactured, stored, and shipped using the cleanest methods possible to ensure unsurpassed product purity.

In business since 1954, NewAge Industries is a manufacturer and fabricator of thermoplastic and thermoset tubing and hose, and a private-brand master distributor of fittings and clamps. The company offers one of the broadest product lines of tubing, hose, and fittings in the U.S., and its custom extrusion and fabrication services are unrivaled. NewAge Industries maintains a large inventory and prides itself on same-day shipment of 98% of orders for its core product lines.

For questions regarding this press release, contact Ann Phy, Marketing Coordinator, by phone at 215-526-2145; fax 215-526-2191; e-mail aphy@advantapure.com (this contact information is not intended for publication).

AdvantaPure®, AdvantaLabel®, and NewAge® are registered trademarks of NewAge® Industries, Inc. o Hose Track(TM) is a trademark of NewAge Industries, Inc. o Purity in Fluid Flow Systemssm is a service mark of NewAge® Industries, Inc.


More from Controls & Controllers