Color TFT LCDs are suited for industrial use.
Press Release Summary: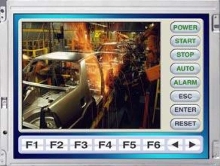 Amorphous silicon SVGA NL8060BC26-27 TFT LCD features 400 cd/m² brightness and 700:1 contrast ratio. Utilizing SA-SFT technology, 10.4-inch display provides viewing angle of 170°. Operating temperature range is -10 to +70°C. With compact design weighing 205 g, 6.5 in. VGA NL6448BC20-18D features 600:1 contrast ratio and 160° horizontal and 140° vertical viewing angles. It consumes 4.4 W of power.
---
Original Press Release:

NEC LCD Technologies Enhances Lineup of TFT Color LCDs for Industrial Use


Tokyo, March 28, 2005 --- NEC LCD Technologies, Ltd. today announced that it will mass produce two kinds of 10.4-inch (26cm-diagonal) and 6.5-inch (17cm-diagonal) amorphous silicon thin-film-transistor liquid crystal displays ("TFT LCDs") to meet the various demands of the industrial sector. The main characteristics of these new models are outlined below.

10.4-inch SVGA "NL8060BC26-27"

Significant improvement in visibility: By adopting NEC LCD Technologies' own unique SA-SFT technology, which boasts improved panel transmissivity and high display properties, a significant improvement in visibility as compared with the predecessor product "NL8060BC 26-17" is achieved. This realizes the following:

An ultra-wide viewing angle of 170 degrees (contrast ratio greater than 10:1) in comparison to the conventional 100-degree horizontal and 80-degree vertical viewing angle of its predecessor product.

A reduction of the color and/or contrast shift problem that occurs due to a change in viewing angle.

High luminance of 400cd/m2 (compared with the conventional 280cd/m2 ), and high contrast of 700:1 (compared with the conventional 300:1).

Wide operating-temperature range: Use of the new product is enabled even under severe environments, where the LCD may be susceptible to high temperatures and various temperature changes, due to expansion of the operating-temperature range from 0 degrees Celsius to +50 degree Celsius to -10 degrees Celsius to +70 degrees Celsius.

Compatibility: The new product is compatible with its predecessor product "NL8060BC 26-17" in relation to outer dimensions, position of mounting holes, and screen center. Furthermore, it can be replaced easily without the need to change any of the peripheral appliances due to interface compatibility.

6.5-inch VGA "NL6448BC20-18D"

Significant improvement in visibility: The new product realizes significant improvements in visibility as compared with its predecessor product "NL6448BC20-08E" including the following:

A wide viewing angle of 160 degrees horizontally and 140 degrees vertically (contrast ratio greater than 10:1) as compared with the conventional viewing angle of 100 degrees horizontally and 80 degrees vertically.

High luminance of 400cd/m2 (as compared with the conventional 300cd/m2 ).

High contrast of 600:1 (as compared with the conventional 250:1).

Wide operating-temperature range: Use of the new product is enabled even under severe environments, where the LCD may be susceptible to high temperatures and various temperature changes, due to expansion of the operating-temperature range from 0 degrees Celsius to +50 degree Celsius to -10 degrees Celsius to +70 degrees Celsius.

Compact: The compact design and the revision of the mounting method realize a narrower frame, cutting the frame size in half on all sides. In addition, the area required for installation of the LCD is reduced by approximately 20%. Furthermore, the new design boasts a 15% reduction in weight (240g decreased to 205g) and a 12% reduction in power consumption (5.0W decreased to 4.4W.)

Screens boasting high levels of visibility that enable clear display of various information that facilitate easy reading are highly sought after in the industrial market. Recently, these kinds of needs have been increasing due to the diversity of installation locations and environments where appliances are used. "Responding to the demands of the industrial sector, our aim is to improve usability and create new products that answer the many needs of the sector, such as LCDs that are suitable for environments susceptible to severe temperature fluctuations etc." said Hidetoshi Usui, department manager in charge of product planning and marketing, NEC LCD Technologies, Ltd.

NEC LCD Technologies, Ltd. takes into account the special needs of the industrial market in creating products through its own unique technology and know-how that it has cultivated over many years. It will continue to further strengthen its product lineup aiming at exploitation of new fields and markets.

About NEC LCD Technologies, Ltd. NEC LCD Technologies, Ltd. is one of the world's leading providers of high-quality, innovative, active-matrix liquid crystal display (AM-LCDs) modules for the industrial and high-end monitor markets. The company focuses its development on three core technology areas: ultra-wide viewing angle SFT technology, with high luminance and fast response; transflective NLT technology; and adaptive design technology that meet a variety of specialized needs for the flat panel display markets. NEC LCD Technologies' worldwide support includes sales and marketing affiliates NEC Electronics America, Inc. (www.necelam.com) and NEC Electronics Europe (www.ee.nec.de) that offer specialized display solutions to their respective markets. NEC LCD Technologies employs approximately 1,200 people worldwide and offers one of the broadest product portfolios for the medical, factory automation, test and measurement, entertainment, kiosk, POS and ATM markets. Additional information can be found at nec-lcd.com/english/

More from Test & Measurement